A long jump to success: Junior Olympian graduates with associate degree at 18
Jul 9, 2015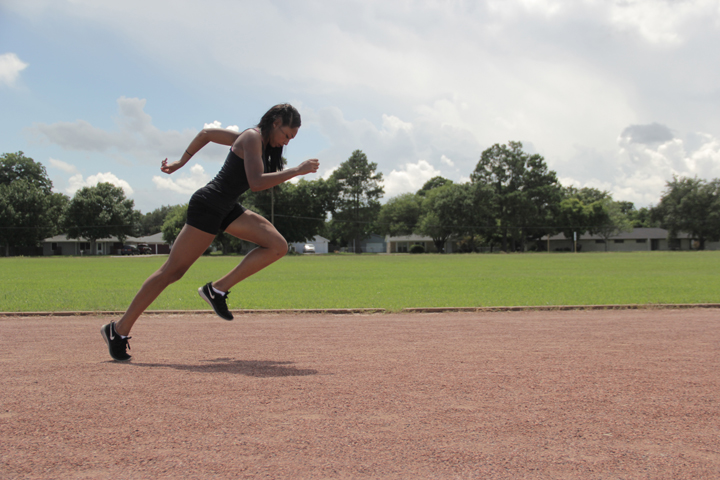 Nikes crunch on gravel as Asa Garcia's muscles tighten, ready to spring into action. Rising and sprinting down the track, she leaps three times.
At 18, Garcia is the top-ranked triple jumper in the nation in her age category and she is training for the Junior Olympics: her record is 43', 2".
Besides excelling on the track, she outpaces many of her peers in the classroom. At 18, she has earned an Associate of Arts in general studies from College of the Mainland through COM Collegiate High School.
"You develop a lot of friendships here," said Garcia. "You get a lot of opportunities and workshops."
The program allowed her to take all academic classes at COM while running track at Texas City High School.
For two years, she's sprinted between track at Texas City High School and classes at COM, which challenged her.
"There were countless nights we'd stay up until 1 a.m. writing papers, whatever it took to get it done," said Garcia.
She persevered in the classroom and on the track, which she admitted wasn't her first love.
"(My dad) made me keep going. He said I couldn't quit anything once I started it," said Garcia, who began in middle school.
She persisted. And her freshman year of high school, she made a discovery.
"I got second at nationals (in triple jump). I was like 'I'm number two in the nation,'" explained Garcia. "Winning made me like (track)."

The realization fueled her drive and she trained at Texas City High School and with coaches Vincent Hypolite and Walter Walls at Mainland Jaguars Track Club.
The next year, and the year after that she was number one in triple jump.
Her winning strategy? Music and self-motivation.
"I talk to myself: 'You're going to win. Go break the record,'" said Garcia.
Now she has signed for University of Texas track and earned a full scholarship for five years. Since she already has an associate degree, the scholarship will take her through her master's. She plans to major in biology with the goal of becoming a doctor, possibly a pediatrician.
Her work inside and outside of the classroom paid off.
"(CHS) helped me with time management. I know what I'm expecting (at a university)," said Garcia.
For more information on COM Collegiate High School, visit www.com.edu/chs.