DHS students graduate with diplomas and job offers
Jun 25, 2015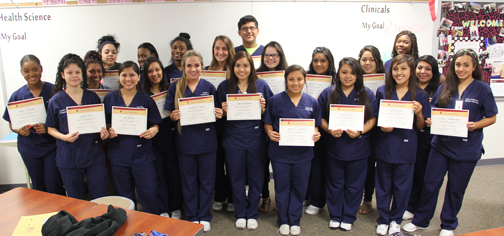 This year 21 Dickinson High School students graduate not only with diplomas but with in-demand job skills and, in some cases, job offers.
Completing the College of the Mainland Certified Nurse Assistant Program, the health science students will test this summer to become certified nurse assistants to serve in assisted living facilities, home health care agencies or hospitals.
"It's one of the best decisions I've ever made," said student Nicole Frederickson. "I'm really glad this school gave us this opportunity because a lot of people don't get that."
Frederickson has been accepted to the University of Mary Hardin Baylor to study biology or chemistry and music in preparation for medical school.
"It feels really good to help," said Frederickson.
The class is a commitment – an hour and a half each day plus Saturday clinicals at places such as Rio and Baywind.
"We study patients' rights, pathogens and CPR. We're certified to move residents, wash them and brush their teeth. The practice time we put in here makes us more confident," said student Mauricio Estudillo.
Clinicals provided hands-on experience in addition to labs in class.
"Everything we would do and practice in class we did at Rio," said Estudillo. "We would answer call lights. They really liked us. They wanted us to apply to get positions."
Diana Munson, a registered nurse for 33 years at Clear Lake Regional Hospital, teaches the class.
"She gave us insight into the real world," said Frederickson. "She kept us informed on how the medical field is changing."
Munson prepared students to assist patients with daily activities such as eating, bathing and dressing.
"There's a lot of demand for CNA's. Two students from class were hired at the Rio at Mainland Center," said Munson. "It's a good thing to have on your resume if you are applying to nursing school."
Kristi Pulkinen, Dickinson High School health science teacher, said the program gives students a head start on a career.
"For most of them it's first a stepping stone to go on to college and for some this is maybe what they want to do," said Pulkinen. "They've worked with the same staff members each week and so they have those connections."
For more information about COM's CNA program, contact Christina Bergvall at 409-933-8512.