Generations find success with COM PTEC program
Jun 9, 2015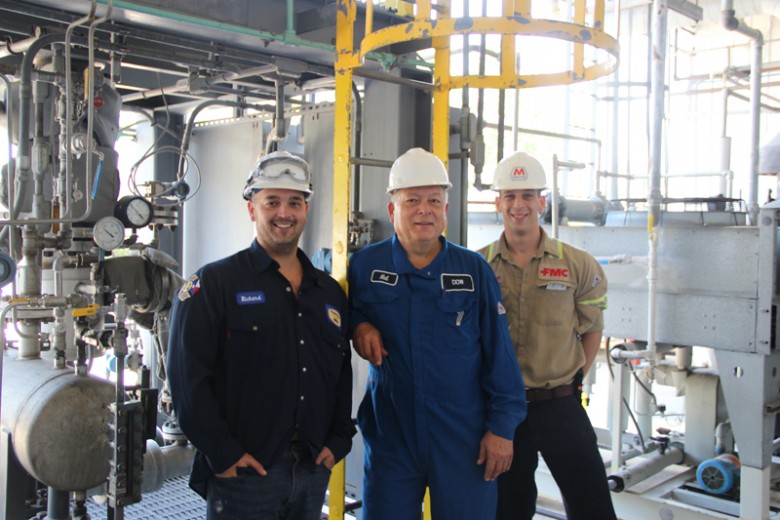 For Hal Pollock, of Dickinson, and sons Michael and Richard, the College of the Mainland Process Technology is a family affair.
At 49, Hal was the first in his family to discover the program. He had held several jobs in sales with a degree in business administration but when a friend told him about the COM Process Technology Program, it sparked his interest.
"I enrolled and took the first two classes. I made A's in both of them. I thought I can do this," said Hal. "Nights, weekends, holidays I knew where I'd be: at COM or studying."
Now Hal is a degreed chemical process operator at Dow Chemical Co. in Freeport.
"This is the best-kept secret there is," said Hal. "This year I'll probably make $125,000 (with overtime). For about $10,000 you can get a degree making that kind of money."
Sons Michael and Richard Pollock saw how the program benefited their father and enrolled after high school. Michael now works for FMC Corp. as a process operator, and Richard works for Pasadena Refining.
"The money's good, but (the job's) fulfilling. You're in charge of millions or billions of dollars of equipment," said Michael. "You form lifelong relationships with coworkers. You form a lot of life skills."
Hal and Michael now return as adjunct instructors, teaching final-semester students in the 40-hour run how to operate, troubleshoot and document processes.
"A lot of people helped me finish the program and get hired," said Michael. "Coming back to the college is one way of giving back. We try to come in as industry reps and give them a little bit of field experience."
"My goal is to have 100 percent of the students have a job," said Hal. "In two to three years, students have potential to get where I am. It's up to them. You get serious and study. The college teaches you the basics so you have the tools you can take with you to whatever company you decide to work
The three anticipate continuing opportunities in the field.
"We actually enjoy what we do, so it's almost like it's not work. I'm proud to say I graduated from (COM). It's the best thing that's ever happened," said Richard. "With this degree you can work anywhere, whether a power plant, chemical plant or refinery. Anything that has a process, the PTEC program allows you to do it and realize your dreams."
For more information, visit www.com.edu/ptec or call 409-933-8536.