From rodeo clown to drafting student: Quadriplegic pursuing dream of degree at COM
May 27, 2015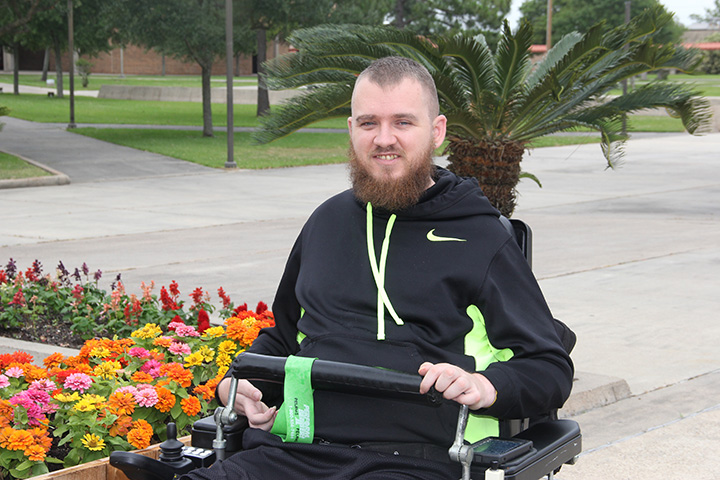 As a professional rodeo clown responsible for rushing cowboys out of harm's way after being bucked off bulls, Michael Thiel was living his childhood dream.
"It was a blast," said Thiel. "When I was a little kid I wanted to be a rodeo clown and fireman and I was professional in both categories."
On Oct. 20, 2009, a motorcycle accident resulting in a severe spinal cord injury left him fighting for his life.
"They gave me a zero percent chance of recovery," said Thiel. "My family was told I probably wouldn't live out the week. I did. Then they were told I would never be able to do more than move my head right or left and would be confined to bed in a 24-hour care facility for the rest of my life."
He eventually left the facility and slowly recovered use of his arms at home. He regained more movement with physical therapy.
"Six years later I'm moving, talking," said Thiel.
Then he was ready for his next challenge – getting back to work.
"I want to support myself and not rely on Social Security. If I want something, I'm going to get it. I'm not going to wait for people to hand it to me," explained Thiel.
He came to College of the Mainland and is pursuing a degree in drafting. He still cannot straighten his fingers but can type with his knuckles on a touch screen.
With a 4.0 GPA, Thiel was inducted into Phi Theta Kappa, the international community college honor society, this semester.
He also takes voice lessons from James Heffel as an elective.
"He's one of the best instructors I've ever met. I'd rank him in my top 10 favorite people," said Thiel.
Formerly working as a physical trainer, paramedic, mechanic and firefighter, he's continuing to work on regaining strength.
"I'm getting strong. I took a weight training class last semester," said Thiel. "I go to the COM gym and exercise. Employees will adjust the weight on the pulleys (for me)."
After he earns his associate degree, he plans to work as a drafter or pursue a bachelor's degree in civil engineering.
"I don't give up. I like challenges. You just have to want it. If someone says I can't do something, I want to do it," said Thiel. "Every day is a new experience."