COM police chief honored as Employee of the Month
May 1, 2015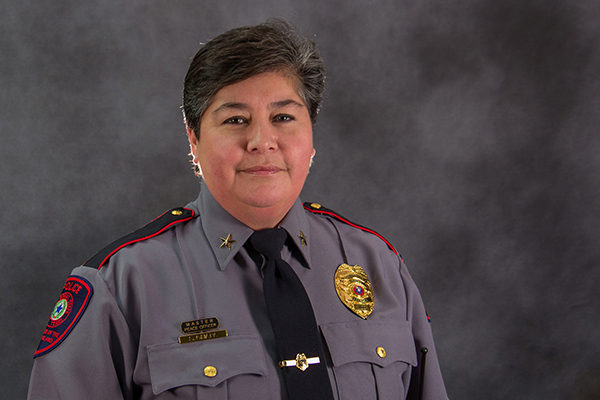 COM Police Chief Sylvia Chapa is a protector.
"I have always had something in me to want to protect people and animals who can't (protect) themselves. When I'm doing this, I'm able to fulfill that," she explained.
Wanting to be a police officer since childhood, Sylvia pursued the police academy until a knee injury sidelined her for nearly ten years. While working security, she came to COM first as a part-time police officer, then a full-time police officer in 2005.
She rose to lieutenant in 2010 and became police chief last year.
With a bachelor's degree in psychology and master's degree in behavioral science, Sylvia seeks to help students in need and closely coordinates with the COM advising department and behavioral intervention team.
"We're able to help a lot of people," said Chapa. "I'm doing what I love."
On a typical day, Chief Chapa may complete paperwork such as Clery reporting, or do a safety presentation for the COM 50 Plus Program or talk about a day in the life of a police officer with COM Collegiate High School students.
"Chief Chapa is the consummate professional," said President Beth Lewis. "She protects and serves in a variety of ways, always with educating the students, staff or community about the best way to approach a situation, whether it's a student behavior disturbance or abandoned ducklings. She is calm when dealing with conflict, and her level-headedness and keen problem-solving ability make her a good sounding board. I appreciate her simple-is-best approach in handling issues on campus, and I couldn't ask for a better police chief with whom to work. Her confidence, approachability and dedication to higher education make her an excellent choice for Employee of the Month and a great role model for women seeking a career in law enforcement."
She also oversees the COM Police Department, coordinating staff training and guiding policy.
"Everybody has a strength," said Chapa. "I want ongoing specialized training for the PD so that we can continue to diffuse any sort of a crisis situation that comes our way. Good split-second thinking saves yourself and others."
Her favorite part policing is interacting with students and the campus community and knowing when to enforce and when to counsel.
Sometimes outside situations spill onto campus, as with one student caught in domestic violence.
"I had a student scared and crying. I said, 'I'm going to take you to the La Marque Police Department and stay with you when they process your case.' She came back to me and said, 'Thank you for giving me an opportunity to stay in school and reassuring me through the ordeal.'
"Those types of stories are examples of why I enjoy policing."
A master peace officer, Chief Chapa also runs the COM Duck Whisperer page dedicated to informing the community about the COM ducks and duck care.
"I do this because I like to help people and animals, especially if they have feathers."