HVAC program prepares students for high-skills, high-demand jobs
Apr 30, 2015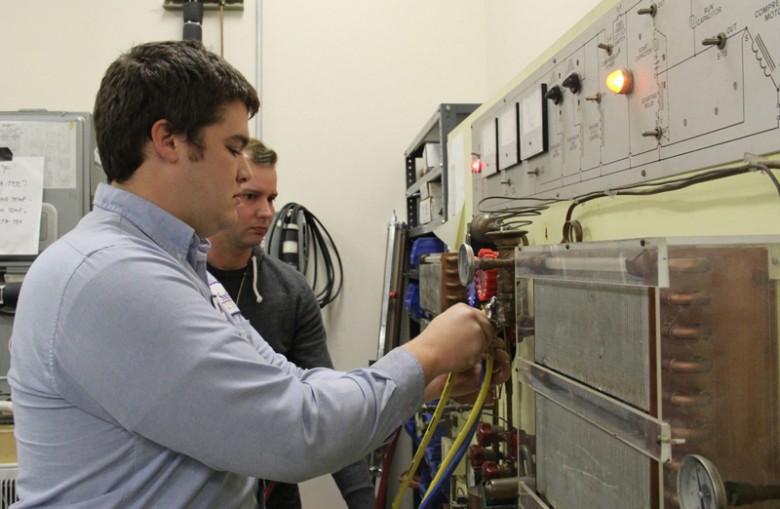 Maintenance technician Colby McNeel looks to improve his skills for more job opportunities within the field while Alex Crespo wants to enter the heating and air-conditioning field.

Both came to the College of the Mainland Heating, Ventilation and Air-Conditioning (HVAC) Program to reach their goals.

"Since I've been in the class, I've progressed," said McNeel. "I've learned a lot about furnaces and air handlers and condensers and the theory and the physics behind it. The class … allows you to own your skills."

Working as troubleshooters and problem solvers, HVAC technicians find employment in commercial, residential and industrial settings.

The field is projected to grow 34 percent by 2018 along the Gulf Coast. The median hourly wage is $20.04, according to Workforce Solutions.

"I knew nothing about HVAC (when I began)," said Crespo. "It's really interesting, the hands-on work. I enjoy putting different components together and circuits."

Meeting two evenings a week, one class focuses on hands-on work with compressors, circuits and air-conditioning components. The other explores the science behind the way things work.

"It's not just air conditioning; it's electrical, plumbing and piping," said Colby. "Not only can you make a lot of money doing it, but it's interesting. You're always learning something."

Roy Bird, an HVAC journeyman with 14 years of experience running his company, Bird Refrigeration, teaches the class.

"We focus on analysis of problems, repairs and installation of new equipment," said Bird. "It's hands-on."

The HVAC Program offers three certificates, and all three can be completed in a year. Students may enter the workforce after completing the first certificate but gain the highest payoff from completing all three.

After completing the first certificate, students may take the Environmental Protection Agency technician certification, which companies seek in new hires.

The field is ideal for "curious, open-minded people from all fields, whether from an office or maintenance," said Bird. "The field is constantly growing. There's a high demand for skilled technicians. There are a lot of companies out there ready to hire people."

Financial aid is available for students through Workforce Investment Act, Texas Public Education Grants and, for veterans, Hazlewood Grants. Students may also qualify for scholarships.

Students do not have to take placement exams to enter this program.

For more information on the COM HVAC Program, visit www.com.edu/ce or call 409-933-8586.