COM nursing grads inspire classmates
Mar 26, 2015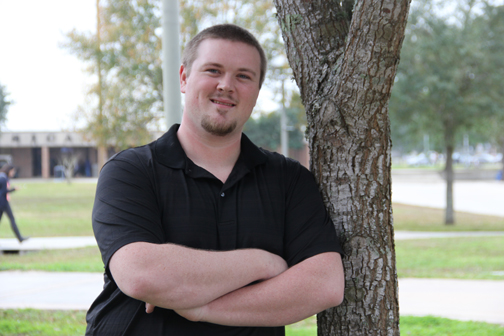 For the 36 almost-graduates of the College of the Mainland Associate Degree Nursing Program, the end is in sight.
To assist their transition from school to work, two COM graduates shared their work experiences and fielded questions about the state exam, best practices and surviving the night shift.

COM graduate Mark White, who works at Mainland Medical Center in the progressive care unit, encouraged students to persevere through the final semester.

"I am a recent father with a newborn. I worked 60 hours a week night shift at UTMB (while going to school)," said White. "Whatever you've got going on, you can do it."

Marcella Linda Brizuela works as a post-operative nurse at Mainland Medical Center, where she worked as a nurse tech while in school.

Brizuela admitted the need for multitasking each day while caring for up to six patients.

"I had one patient in pain every five minutes and another that needed a bedpan and a family member on the phone," recalled Brizuela. "They're sick, they're hurting. You have to be cheerful."

While offering incredible challenges, the field also offers rewards, graduates explained.

"It's really cool that we've chosen to do a job that not many people can do," said Brizuela. "I love what I do. That one person who says thank you, it's sweet."

The presentation is part of the Clinical Leadership and Management Seminar.

"We like to bring students so they get a taste of what they can expect," said nursing professor Kathy Glynn.

The COM Associate Degree Nursing Program trains students through hands-on classes and clinical rotations at health care facilities such as the Clear Lake Regional Medical Center, St. Joseph Medical Center and The University of Texas-Medical Branch.

Students also learn about patient care through SIM-Man, a computerized mannequin that simulates various symptoms. Students assess his condition, respond and observe "real life" changes in his condition.

Apply to the COM Associate Degree Nursing Program by May 1.

For more information on the COM nursing program, visit www.com.edu/nursing.