EMS Program prepares students for action
Feb 13, 2015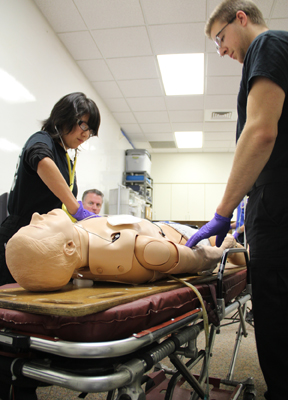 At a moment's notice, paramedics and emergency medical technicians can spring into action.

Through intense clinicals, exams and labs, the College of the Mainland Emergency Medical Technician Program prepares students to respond to any life-threatening crisis.

Students excel on certification exams. Graduates from the 2014 class of paramedic students achieved a first-time pass rate of 100 percent on the National Registry Exam, and all are employed locally.

The program offers three levels – EMT-Basic, EMT-Intermediate and Paramedic – to help students reach their goals.

"Basic was very intense and very thorough," said COM student Joe Prasatik, who completed the EMS-Basic, EMS-Intermediate and is now working on the paramedic certificate. "It's a top-notch program. I don't think you'll get anything like this in the state or country."

Combining labs, classes and 96 hours of clinical rotations, where students participate in health care settings such as the emergency room or with local EMS providers, the COM Emergency Medical Technician (EMT) - Basic Program prepares students to administer first aid, safely transport patients, and bandage and splint injuries.

"The program offers evening and daytime classes to prepare students to pass the National Registry EMT-Basic Certificate test," said instructor Julianne Duncan.

Instructors with years of field experience help students develop their full potential.

"When it came to do (an IV) in a real life situation, I would freeze up," said Prasatik. "(Instructors) took their time with me. They helped me with confidence and getting past the block. Educators are more than willing to help out. They will go out of the way."

Former students return to help new classes with tutoring continuing the group's camaraderie.

"We all want each other to succeed because they are going to be right there with me when something happens," explained Prasatik.

The EMT-Intermediate Program teaches students how to insert a breathing tube and administer medications intravenously. Students also gain experience through intensive clinicals at health care facilities such as Memorial Hermann, where Prasatik and his classmates worked under anesthesiologists to insert breathing tubes into patients.

"I had 31 patients in three days," said Prasatik. "We were able to see a surgical robot in action."

The opportunity is rare for students in community colleges.

"We are honored to have an affiliate relationship with Memorial Hermann Southeast which provides access to the operating room—it provides a rare and tremendous opportunity for students to practice critical skills," said Duncan.

The EMT-Basic Program serves as a springboard to a career as an emergency medical technician, to higher-level EMT classes, or to branching into firefighting or other areas of health care such as nursing. COM offers both day and night classes every semester.

For students choosing to continue to the EMT-Intermediate level, daytime classes begin each fall and spring and prepare students to pass the National Registry EMT-Intermediate Certificate test. EMT-Paramedic classes start every spring.

For Prasatik the COM EMS Program offered a fresh start doing something he loved.

"(I like) being able to help," said Prasatik. "Knowing that I'll be there for somebody on the worst day of their life."

For more on the COM EMS Program, visit www.com.edu/ems.