COM partnership with Head Start fosters lifelong readers
Dec 16, 2014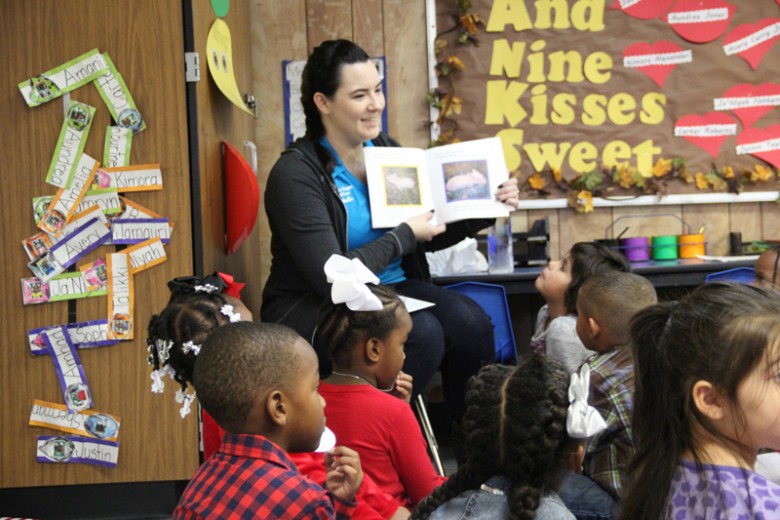 For children in Hitchcock Head Start this year, college preparation begins with a 32-page book "The Little Pink Pup."
"Education starts with reading," said College of the Mainland sociology professor Luis Sabido. "Research shows that if you start early, acquiring language skills is easier."

As part of a new partnership between College of the Mainland and Hitchcock Head Start, COM students and staff visit every month, read a story and give each child a copy to take home. The program aims to foster lifelong learners and language skills.

Today, giggling excitedly, 17 four-year-olds at Hitchcock Head Start scramble into a circle as College of the Mainland student Michele McNamara reads "Little Pink Pup," a tale of a dog raised by pigs.

"Did you like that it's a true story?" asked McNamara.

"Yeah, it's real," answered one student.

"I want a puppy," another exclaimed.

"You're an expert on this book now. Each of you guys gets the same book to take home," explained McNamara. "Your parents will read the book to you."

At the end of the year, each child will own seven books.

"For the child and the family it may be the start of a home library," said Sabido.

Head Start teacher Jacquelyn Henderson supports reading aloud to children.

"It increases their vocabulary," said Henderson. "It develops readers and listeners, especially when you ask questions."

The books are part of the Scholastic book series, and Scholastic trained volunteers at the beginning of the year in how to read, discuss and ask age-appropriate critical thinking questions.

Funding for the books is provided though the Gulf Coast PASS grant, made possible by Houston Endowment. Awarded to the college in 2012, the grant funds initiatives to increase college readiness among the COM service area.

"Education at home is as important as education at school," said Sabido. "We want to create those bonding and reading opportunities."

For more information on the Hitchcock Head Start Reading Program, contact Sabido at lsabido@com.edu.