Dual credit students graduate ready for workforce
Dec 12, 2014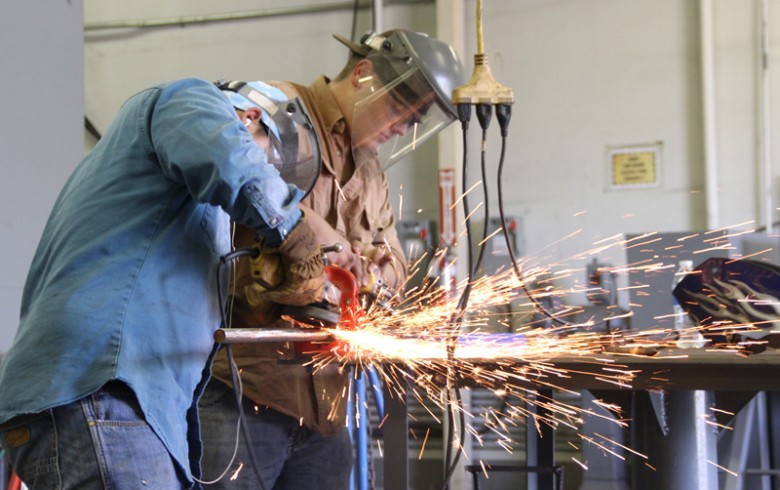 A shower of sparks flies as Grant Dominy, 16, welds the pieces of a trailer together.
After repairing a small barbeque pit, the College of the Mainland dual credit student and his classmates are learning American Welding Society skills for future employment.

"I like to work on the projects. It's a good way to end our day," said Dominy, who attends Santa Fe High School and comes to welding classes at COM five afternoons a week.

This fall for the first time, COM is providing options for students to earn both high school and college credit in welding, drafting and cosmetology. Graphic design and drafting will be added in fall 2015.

The program aligns with the requirements of Texas House Bill 5, which states that students select a cluster of classes as a specialty.

While students have more options, some high schools may not have the resources to offer students hands-on classes in multiple areas.

That's where partnerships with COM make a difference.

"For smaller districts, it's tough to create a huge variety of endorsements, so we can help them. A school might not start a graphic design or welding program, but they can partner with us and we can teach it," said COM Dual Credit Program Director Theresa Jones. "HB5 is going to create more opportunities for us to partner with high schools."

This year, so many Texas City and Santa Fe students are coming for welding that they have designated classes for only dual credit students.

"Part of what's motivating them is they found something they like to do and can make money at," said Jones.

For Kolten Rightmire, 17, from Santa Fe High School, welding is a perfect fit.

"I like the challenge of progressing in it. I love the class."

While Rightmire excels in welding, his classmate Amber Ortiz, a junior at Santa Fe High School, found cosmetology at COM opens opportunities for her.

"We learn braiding and updos. We had to learn the body to understand how the body works with chemicals if there was a reaction (to hair color)," said Ortiz. "My favorite part is getting to work on clients (in the Salon at College of the Mainland)."

Ortiz will graduate ready to take the cosmetology state board exam, which will allow her to work as a cosmetologist immediately following high school graduation.

"They can work while going to college or start their careers, and it's something they love," said instructor Athanice Parker.

Welding students who begin in their junior year could complete as many of 16 credit hours, only eight away from earning the entry-level welding certificate.

To begin the program, all dual credit students must apply to COM and get permission from their high school counselor.

In fall 2013, 935 students enrolled in dual credit classes at COM. This year the number climbed to 1,040, an over 10 percent increase.

"They save all that time and money," said Jones.