COM celebrates four generations of veterans
Nov 11, 2014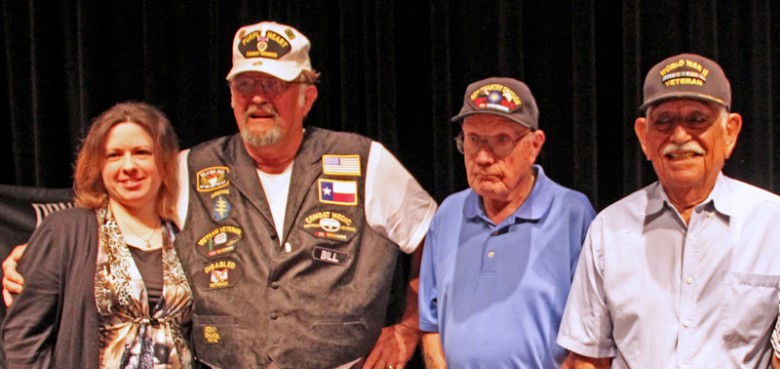 Standing tall to represent a generation's sacrifice – during World War II, the Vietnam War, the Korean War and the war in Iraq and Afghanistan – four veterans were recognized Nov. 10 during College of the Mainland's Veterans Day memorial.
"We gather today to honor whose who served, those who said yes. … Yes, I will leave my country…Yes, I will leave my family," said COM President Beth Lewis.

In the ceremony attended by former and current military and family members, Ray Stone, a U.S. Marines veteran and second vice commander of American Legion Post 89, recognized each generation's sacrifices.

"We are honored to have four generations of veterans representing different generations … from the Great War; from the war creating a free and grateful South Korea; from Vietnam, an unpopular war because of politics not because of the men and women who served; and from the other wars," said Stone.

John Roberts, of the Wounded Warriors Project, shared about veterans' challenges in reintegrating into society and how citizens can smooth the way.

"I felt it was our responsibility to make it better for the next generation. That's been my mission for the last 18 years," said Roberts. "PTSD is a perfectly normal reaction to a very bad situation. Don't judge. Ask that they get help."

Following the ceremony, representatives from veterans organizations including Wounded Warriors, American Legion, Texas Veterans Commission (claims), Galveston County SBDC, Americans for Better Hearing Foundation, and hosted booths to provide information on their resources for veterans.

"It's about getting veterans the support they deserve," said Detra Levige, COM Veterans Officer/School Certifying Official.

For more information on the COM Veterans Association or COM resources for veterans, contact Detra Levige at 409-933-8455 or veterans@com.edu.