Fast-track to jobs with physical therapy aide course
Aug 27, 2014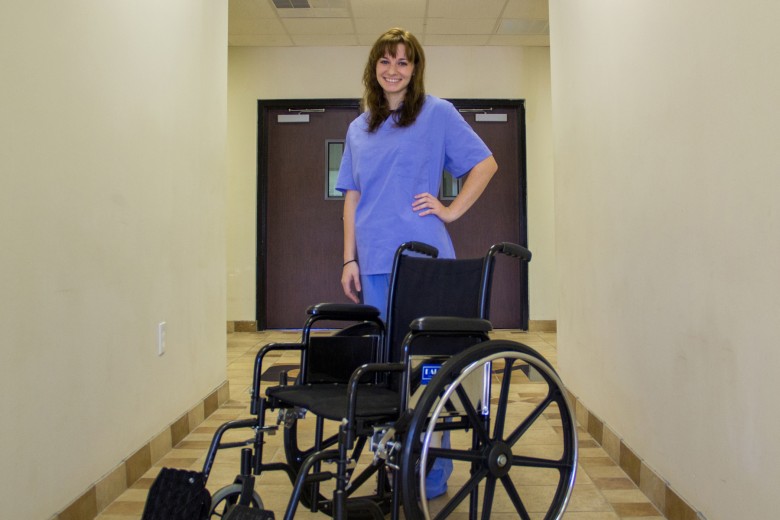 After graduating from the College of the Mainland Physical Therapy Aide Program, Monica Fischer found job searching to be a swift process.
"I went in that day, and they hired me," said Fischer, who is employed at Sheila's Angels In-Home Care in Houston. "I became a big asset."

The skills she learned in safely assisting patients from a bed to wheelchair, communicating with the medical team and helping with therapeutic exercises have facilitated her success.

"(Instructor Andrew Flores) concentrated on body mechanics. I have a patient who is 200 pounds and I'm 120 pounds, but I can safely help her in and out (of her wheelchair) with no problems," said Fischer. "My boss wants me to do a little mini-class (for other employees)."

A rapidly growing field, physical therapy can bridge the gap between a patient's illness or injury and their return to full activity.

As new Gulf Coast health care facilities are built and others expand, physical therapy aides find employment at hospitals, outpatient clinics and home health care services.

"The job market is growing because of an aging population," said COM physical therapy aide instructor Andrew Flores. "There's always going to be a need. There are always traumatic injuries, and people need help."

COM's Physical Therapy Aide Certificate Program trains students for a rewarding career in just a semester.

In the 16-week, non-credit program, which meets two evenings per week, students learn how to assist patients, document treatment and understand medical terminology. Students earn a certificate of completion and CPR certification after finishing the course.

Andrew Flores, a physical therapy assistant of 12 years, teaches students through interactive classes and labs. Students also learn through on-site observations at health care facilities.

The program can launch a student into the health care field or serve as a stepping-stone to becoming a physical therapy assistant, a two-year program.

"I take them through all I do as a physical therapy assistant so if they want to get into physical therapy assistant program they have that knowledge," explained Flores. "I do a lot of hands-on. I put all kinds of scenarios to students."

Flores encourages students to volunteer at the many health care facilities in the Gulf Coast to gain even more experience.

Fischer is one student enjoying her new role.

"It's a fulfilling job. I'm making a difference in people's lives," said Fischer. "Without his class I would not able to help patients and families like I do now."

The COM program is offered at a lower cost than many area programs, and students may qualify for financial assistance.

For more information, call 409-933-8645 or visit www.com.edu/ce.