COM students win ExxonMobil scholarship
Aug 8, 2014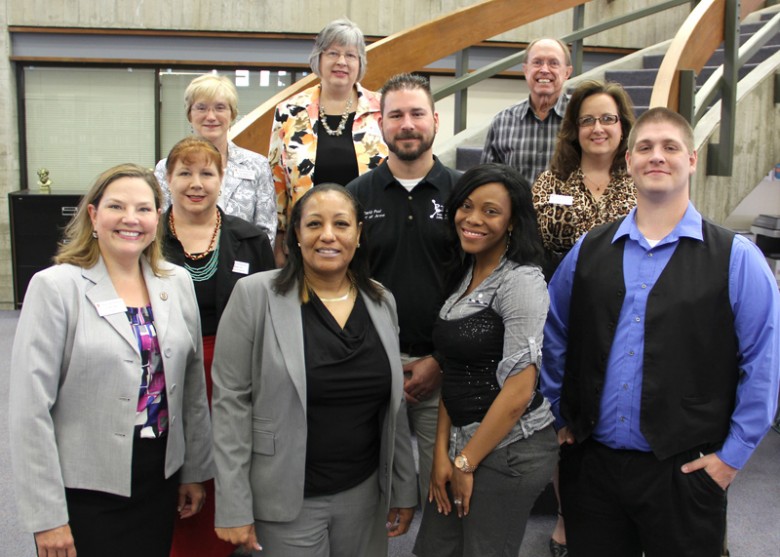 Preparing to launch careers in the growing petrochemical industry, four College of the Mainland students were awarded scholarships from the ExxonMobil Community College Petrochemical Initiative.
COM process technology students Tonya Ware, Philip Myers, David Peel, Shakeitra McKinney demonstrated financial need and a determination to enter the petrochemical field.
Ware, 41, of Galveston, enrolled in the process technology program after a co-worker invited her to his COM graduation.

"He was working in the restaurant while going to school, and I thought if he can do it, I know I can," said Ware, who currently works as a Hilton housekeeping supervisor and for the cleaning company Three Broads and a Broom.

The scholarship will allow her to work fewer hours and have more time to study.

"I'm always working, if I'm not at work, I'm at school," said Ware, adding that she looks forward to working in the industry. "It's time for a change. I don't want to be cleaning for the rest of my life."

David Peel, 34, of Galveston, earned both the CCPI scholarship and a national Shell scholarship.

"I will be able to use money for my last semester of classes," said Peel, who plans to graduate in December.

Peel worked in biomedical research for a few years but was ready for a career change.

"From all I have learned during my time here at COM about the ins and outs of this industry, I believe I made the right decision for myself and my family," said Peel. "I like to work in an environment that allows me to move around, as well as one which presents a new challenge each and every day."

Shakeitra McKinney, 26, of Galveston, said that with the scholarship "I don't have to work as many hours. That time I was working I can put into studying. It's a big help to me and I'm grateful."

She anticipates a career that not only pays the bills but is rewarding.

"I've been a server since 18. I'm ready to have a career," said McKinney. "I can't wait. I really like it because it's a male-dominated field. I feel like it pushes me that much harder. I want to be able to pull my own weight. I want to do something I know is going to pay off."

The ExxonMobil Community College Petrochemical Initiative seeks to provide training and funding for the next generation of petrochemical workers to keep pace with industry growth. Texas is the largest chemical-producing state in the country, supporting more than 73,000 jobs today, with another 81,000 jobs expected through announced investments in new and existing facilities.

"Students enrolled in the Mechanical Maintenance, Machinist, Process Technology and Welding programs at College of the Mainland are eligible for this bi-annual scholarship," said Laura Baumgartner, director of continuing education workforce programs and COM representative on the CCPI steering committee.

Applications will become available in October through COM Foundation for the CCPI ExxonMobil Scholarship for the spring semester.

The initiative consists of community colleges and school districts in the greater Houston and Texas Gulf Coast area, each providing skills training for the region's businesses and industries. Its members include College of the Mainland, Alvin Community College, Brazosport College, Galveston College, Houston Community College, Lee College, Lone Star College, San Jacinto College and Wharton County Junior College.