"Reality Town" at COM gives students sample of real world
Jun 6, 2014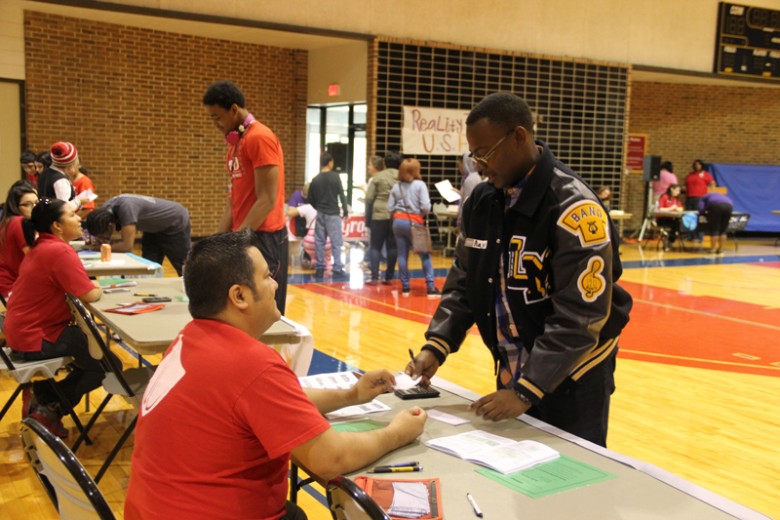 Jalessa Jacob's eyes shift questioningly from the cost of potential housing to her monthly income.
"Can I live with my parents?" she asks.

The student from Texas Southern University glances up from her assigned profile as an artist with a high school diploma.

In Reality Town, an educational program designed to give students a realistic financial experience, each student is given a profile with an occupation, education level, income and/or children. College of the Mainland's federally funded TRIO programs hosted the event attended by students from Galveston College, Texas Southern University and the Salvation Army Boys and Girls Club.

"We're discussing financial plans, so you can start preparing for tomorrow," Ciro Reyes, COM director of TRIO program Upward Bound, told students as they received their checkbooks to record expenses.

Armed with financial logs, students milled from station to station, enrolling in insurance, filing taxes and procuring housing. They contemplated whether they could afford a concert ticket or should catch a movie instead.

Sometimes, emergencies crashed even the best-laid plans. COM student Ruben Sanchez read his "chance card."

"Oh no, my child broke his leg," Sanchez groaned. "I really want a second job."

Michael Richardson, who facilitates the medical station, reassured him. "But you're insured, and that's a good thing."

COM student Alyssa Davila enjoyed the day. "It's interesting," she said as she paid her medical bill.

COM's federally funded TRIO programs provide services for students who are the first in their family to attend college, have disabilities or are economically disadvantaged. TRIO accepts applications throughout the year. For more information, visit www.com.edu/sss.