Why community college students are pledging to finish their degrees
Jun 4, 2014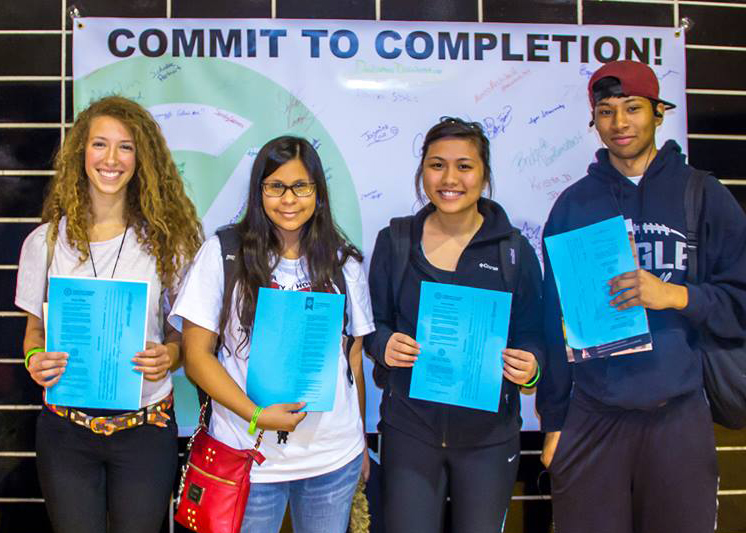 Each year thousands of students drop out of community colleges across the nation. More than half will never return.
At College of the Mainland recently, 85 students committed to reverse that trend. During Community College Completion Corps day, they inked their names to pledges to finish their degree or certificate.
Of all ages and backgrounds, the students united in the belief that completing their degree held the key to a brighter future.
For COM student Natalie Jimenez, of La Marque, community college completion means that she is halfway to a bachelor's degree.
"COM helps me get all the basics out of the way. I save time in college and can spend more time in the field," said Jimenez, 18, who is a student at COM Collegiate High School and plans to pursue a bachelor of fine arts.
For Brandon Koehler, of Santa Fe, completion is a path to a high-paying job in process technology.
"I just got out of the military," said Koehler, who served in the U.S. Army in Iraq. "Completion means I'm going to get my associate degree and get hired on at a plant."
COM faculty and students in Phi Theta Kappa, the national community college honor society, organized the event that is part of the national Community College Completion Corps initiative.
They join a nationwide campaign to improve the U.S. college graduation rate. Statistics on the Community College Completion Corps' website state that that the U.S. has fallen from first to 16th among the 34 industrialized nations measuring the percentage of citizens with a college credential or degree.
"The goal is to explain and encourage students to complete education here at COM," said Dr. Chris Allen, one of the COM faculty members organizing the event. "Those who earn an associate degree are more likely to earn a bachelor's degree when transferring to a university."
Students' actions reverberate not only in their lives but across the nation. Today more than three million livable-wage jobs go unfilled in the U.S. because students are not entering the fields or obtaining the skills, instruction and credentials required.
"Those who complete are less likely to be unemployed and more likely to have children who attend college," said Vice President for Instruction Dr. Vicki Stanfield to students as they munched pizza after signing.
After signing the pledge, COM student Carla Della Femina was enthusiastic about the campaign.
"I thought it was awesome," she said. "For people who are not sure if they want to (complete) it or not, it's really inspiring."