COM Peace Officer Academy graduates 30
May 30, 2014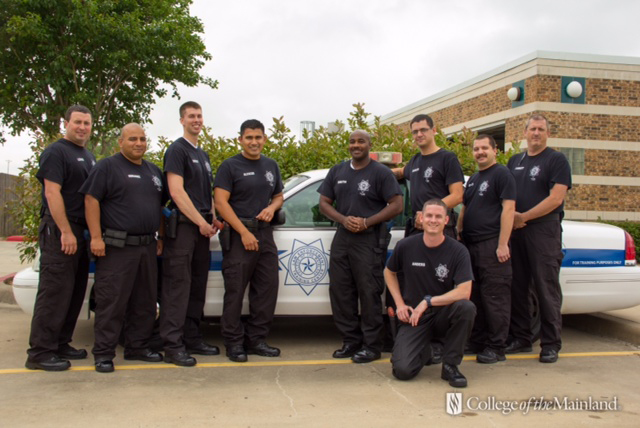 The streets are now a little bit safer thanks to a few new graduates.
On Friday, May 23, 30 cadets graduated from College of the Mainland's (COM) Peace Officer Academy.

Highlights of the graduation ceremony included recognition of Theobold Spencer as the top cadet for scholastics, as well as the bestowment of the Goerlich Award for Leadership and Lem Powell Top Gun Award to Harold K. Smith and Kenneth W. Hernandez, respectively.

Named after a cadet diagnosed with Stage 4 Cancer while enrolled in the academy, the Goerlich Award is given to a student who selflessly pushes others to do better.

"Goerlich was diagnosed with cancer half way through the academy," explained BJ Whitburn, director of training. "He went through chemo treatments and never missed a day. He pushed his classmates in spite of all he went through, and finished the academy and passed his state licensing exam.

"Shortly after, he started losing the fight," Whitburn continued. "He was visited by Sheriff Freddie Poor in the hospital, where he was pinned with his badge. He passed away a short time later.

"Harold really epitomized this award," Whitburn explained. "He was one of those quiet cadets who was always there to push others along."

The Lem Powell Top Gun Award, named for the recently deceased long-time instructor and range master Lem Powell, is given to the cadet with the top shooting score combination of marksmanship, low light, no light, tactical skills, shotgun and patrol rifle.

Hernandez graduated from the academy with an overall shooting score of 98.84 percent, impressive statistics for an academy that demands excellence.

Established more than 40 years ago, the innovative, semester-long, 769-hour Peace Officer Academy is designed to meet the training requirements of the Texas Commission on Law Enforcement Standards and Education, and prepares students to take the state licensing exam.

To participate in the rigorous and selective program, students must first apply and be accepted to COM, satisfy testing requirements, pass a criminal history background check, have a high school diploma or GED and 12 college hours, complete a two-part medical examination consisting of a physical exam and drug screening, and a psychological examination.

"I am very proud of our cadets," Whitburn said. "They really are the best of the best."

For additional information regarding COM's Peace Officer Academy, visit www.com.edu/law-enforcement.