Fervor of Malcolm X channeled in winning speech
May 6, 2014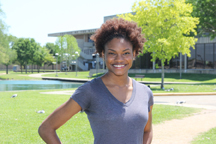 For her dynamic interpretation of Malcolm X's 1963 speech "Message to the Grassroots," COM student Chelsea Murray won first place and a $100 prize during COM's first Words That Changed History Speech Contest.
Murray was among four finalists interpreting orations delivered at watershed moments in history.

"I loved it. The speech was well-written, and she put all the emotion in it," said Joel Boussamba, a COM student who sat spellbound in the audience. "You could feel its meaning."

The Dickinson resident presented a 10-minute portion of the resounding address.

"I did a lot of research. He was a passionate person. He was someone who used his voice to be heard, and that's something I'd like to do," said Murray, who plans to major in public relations at Texas State University after graduating from COM in May with an associate of arts.

Winning second place, COM education major Kayla Smith reprised Helen Keller's address to Congress pleading for workers' rights and maintaining neutrality on the cusp of America's entry in World War I.

Earning third prize, Lidija Bikova, of Houston, presented suffragist Susan B. Anthony's address "On Women's Right to Vote," occasioned by her arrest and fining of $100 for casting a ballot in 1873. Samantha Burdick, of Texas City, earned fourth place for interpreting the final address of Elizabeth I.

The contest was created as part of COM's Quality Enhancement Plan, which seeks to develop students' oral communication skills in all subjects from history to graphic design. The college selected the topic based on research showing employers' desire for strong speaking skills in their hires.

"The contest really showcases what our students are capable of doing," said professor Gilchrist White, Ph.D., QEP director.