COM students earn outstanding musician awards
May 5, 2014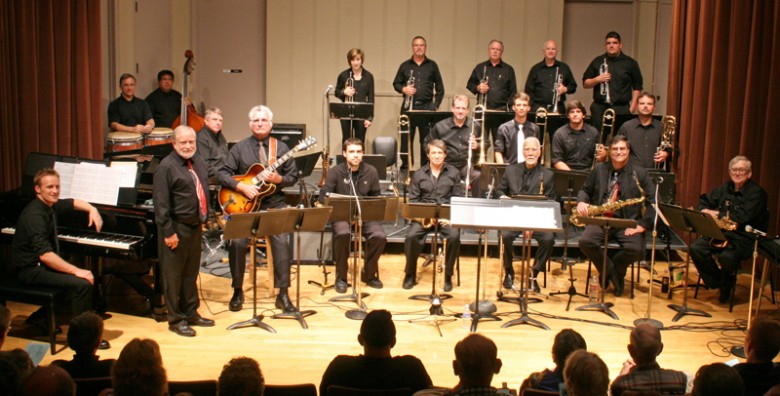 The sound of sambas filling the air, four students in the College of the Mainland Jazz Ensemble won Outstanding Soloist Awards at the Gulf Coast Intercollegiate Conference Jazz Festival.
Ed Hooven, Kim Chavez, Charles Delgado and Nathan Hanna displayed their talents in solos during the group's performance, directed by Sparky Koerner. Engineers, students and retired professors by day, they unite each week to blend their talents along with 14 others in the COM Jazz Ensemble.

A dual credit student from Pine Drive Christian School, Hanna, of Dickinson, received an Outstanding Solo Award for his performance on the upright bass.

"Playing in groups at COM is nice, especially with Sparky. He has a lot of knowledge," said Hanna, who enjoys improvising with the group. "It's an art. It's a way to let people know who you are."

Guitarist Ed Hooven delighted audiences with his improvisation work during his solo on "Samba de los Gatos" and "One by One."

"Doing anything for more than 50 years is pretty amazing. I can't seem to stop," Hooven said, adding that he still feels nervous before a performance. "Nerves are your friends. You have to be powering on all four cylinders."

Charles Delgado won an award for the second year in a row for his performance on the saxophone, while trumpeter Kim Chavez, of Texas City, highlighted her skills on "Maxwell B. Cat" and other jazz tunes. A safety engineer for a NASA contractor, Chavez has played in the COM Jazz Ensemble for over 10 years.

"The big band is just fun. The music can be a challenge," she said. "No one else has my part, and if I don't play my part, it will be missed."

For more information on the COM Jazz Ensemble, or Jazz Combo, open to credit and continuing education students, visit www.com.edu/music or call 409-933-8348.