Texas City seniors shadow jobs at COM with Junior Achievement
Apr 11, 2014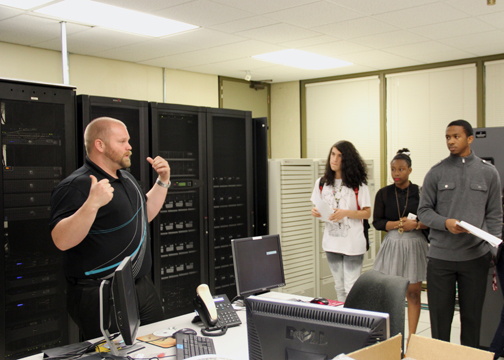 Neon lights flicker along the sleek row of computer servers in the heart of College of the Mainland as Texas City High School students gaze at the 17-foot-long information hub. During the first job-shadowing day at COM facilitated by the nonprofit organization Junior Achievement, COM senior network engineer Aaron Hensley explains how the virtual server cluster functions as "a storage unit for information" and enables all computers on campus to access the Internet.
"I've never been in a server room," said Texas City High School senior Alex Garza, who wants to pursue a career in computers or audio/video production. "I think it was pretty cool."
In addition to a glimpse into the life of a network engineer, Texas City High School seniors explored burgeoning job opportunities in research, drafting and design.

In the drafting lab, students discovered how drafters work and saw samples of drawings similar to those used by architects and engineers to log each part in Texas City's plants.

Entering the COM Graphic Design Lab supplied with wide-screen Macintosh computers, seniors saw firsthand the technology graphic designers use to create stunning publications.

"I liked the graphic design lab. My favorite part was when we saw the computers," said senior Amanda Jenson, who hopes to one day work as a designer.

During a question-and-answer time, students asked advice on entering their chosen field. "What about psychology?" asked one senior.

Professor Bruce Glover advised: "If you want to go into psychology, you have to take the core curriculum. A really smart way to do it is to get all of those courses out of the way at a community college. You can go to school here for about half the price of a university."

Glover, Mainland Junior Achievement board member and treasurer, coordinates COM's involvement with the national program. For the past several years, COM employees have spent a brief time each semester teaching life and financial skills in classrooms through Junior Achievement's games, curriculum and activities.

To schedule a job shadowing event at COM, contact Bruce Glover at bglover@com.edu or 409-933-8552.

Junior Achievement is the world's largest organization dedicated to educating students about workforce readiness, entrepreneurship and financial literacy through experiential, hands-on programs.