COM Debate Team Sweeps Top Community College Honors
Mar 20, 2014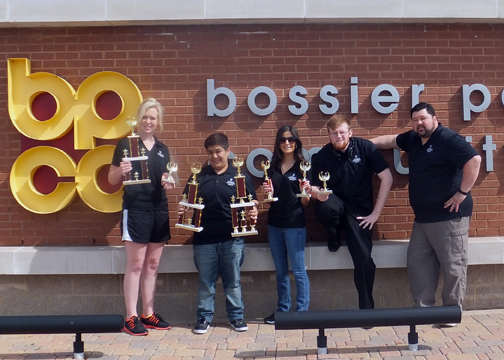 Continuing a four-tournament winning streak, College of the Mainland was recognized as the top community college in the sixth annual Eddy Shell Invitational Debate Tournament hosted by Bossier Parish Community College in Bossier City, La.
During the two-tournament Individual Public Debate Association debate, 12 colleges in five states converged to debate topics from pop culture to world politics.

COM students completed individually and as a team, and COM earned the Top Community College Award in the team debate competition, the individual debate competition (in which it was the only community college competing) and in the combined competition.

COM students Bianca Lara, Danielle Jacobo and Samantha Burdick, all of Texas City, and Jordan Hollan, of Santa Fe, competed in the team debate competition as well as individual debate competition.

Jacobo led the way for the COM team with five wins and two losses in individual debate, which earned her recognition as the fifth-place speaker in the varsity division. She is a former debater for Texas City High School.

Novice debaters Burdick and Hollan won 26th seed (place) and 30th seed, respectively.

The team also recently competed as the only community college at the annual Mardi Gras/Alumni Classic Debate Tournament at Louisiana State University in Baton Rouge.

The COM debate team will host a debate tournament March 21-23 open to community colleges and universities in the region.