Canvas and cartoons collide at art gallery
Aug 26, 2013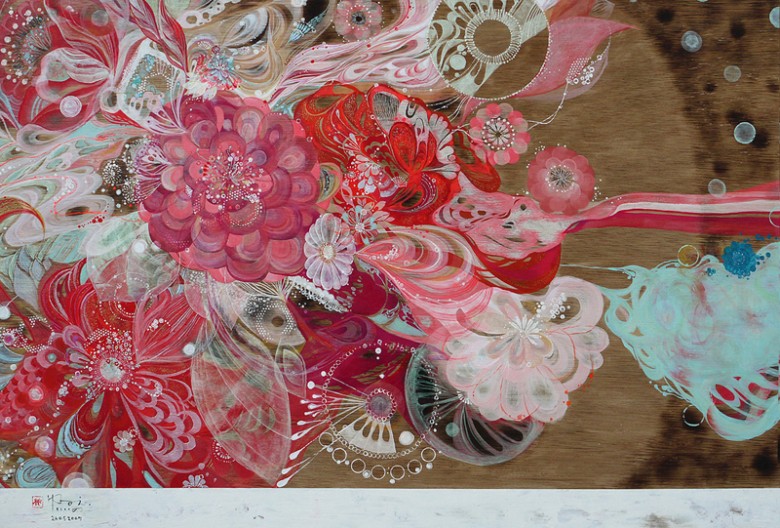 Both the elegant and the everyday engage the viewer in "Breaking the Boundaries: Illustrations and Paintings from Tokyo" on display at the College of the Mainland Art Gallery from Aug. 26-Sept. 19.

Importing from Japan the fresh, fanciful works of artist Yumie Iino and illustrators Chicaco Toya and Yoshimi Yonezawa, the exhibit will contrast pieces of traditional "fine art" and illustration.

"I wanted to explore that 'boundary' between illustrations and paintings through this exhibition. I thought it would be a wonderful opportunity for non-Japanese viewers to see for themselves if they can come up with an explanation that will differentiate the two," said co-curator Yuki Miyamoto, who teaches "English through Art" classes in Japan to artists interested in exhibiting overseas.

Though labeled "artist" or "illustrator," each exhibitor employed acrylic paint, varying only the medium to which they applied it – wood, illustration board or canvas.

Iino's acrylic-on-wood paintings blend bright blooms and subtle swirls into whimsical creations. Each floral painting abstractly captures a moment in her life. The fanciful "Litmus Bloom-Womb" epitomizes her style.

Yonezawa, who works as a freelance illustrator for women's magazines, has been sketching women since childhood and continues to be fascinated with the beauty of the female body. She paints fashionistas in traditional Eastern and Western styles with equal dexterity.

Toya, also a freelance illustrator for magazines, books and advertisements, depicts rosy-cheeked women in modern Tokyo. With circular strokes and a profusion of pink, Toya brings to life the everyday woman relaxing with human and furry friends.

The exhibition is the product of the Japan study abroad trip that COM Art Gallery director Mayuko Gray recently led. During her visit, she met co-curator Yuki Miyamoto, who introduced her to the three artists' distinctive works.

Toya and Miyamoto will give an artist talk Sept. 5 at 3:30 p.m. at the COM Art Gallery. Toya will discuss her work and creative process, and Miyamoto will talk about the exhibition as well as the art scene in Tokyo.

The COM Art Gallery is open Monday through Thursday, 10 a.m. to 4 p.m., and by appointment. For more information, please contact 409-933-8354 or 409-933-8348 or visit www.com.edu/gallery.