COM Upward Bound students rock Academic Bowl
Jul 30, 2013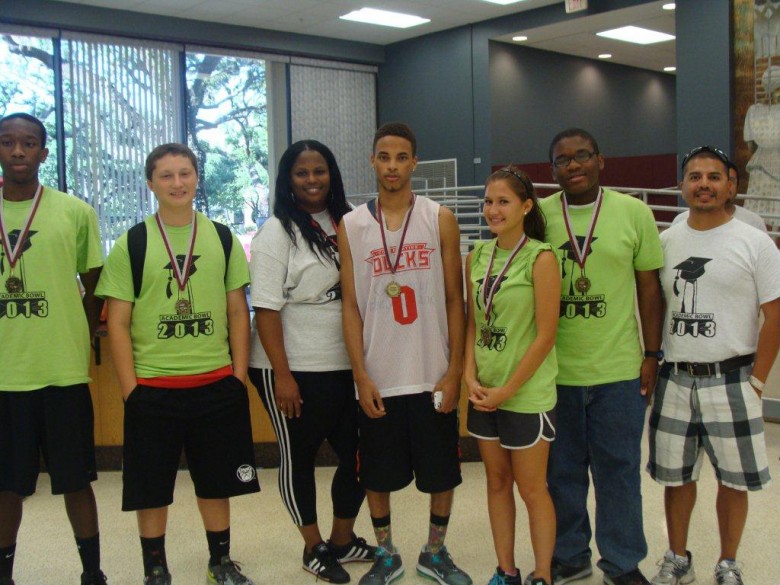 When the final student had slammed the buzzer and the judges tallied the points, students from College of the Mainland won first place in the Upward Bound Academic Bowl held at Texas Southern University.
Parrying questions from science to pop culture, the five students on the COM team bested teams from four other colleges in the Jeopardy-style competition.

"It was really exciting but nerve-wracking," said Elyssa Davila, a team member who attends COM Collegiate High School.

For three weeks she and her teammates reviewed material in categories including science, math, pop culture, literature and college 101. Each became an expert in one area, plus college 101, a topic that will be essential to their success in a few years.

"That's a lot of flashcards," said Davila.

Feeling well prepared, she discovered at the competition she should have not only exercised her brain but her reflexes as well.

"We knew the material, but the biggest challenge was getting to the button first," she said. "When we won, I thought, 'Oh I don't have to go home and study anymore.' It was a really good feeling."

At the all-day event featuring a variety of competitions, Davila and other students also burned off energy in basketball and volleyball games and an egg relay.

"We go to have fun," said Ciro Reyes, director of COM Upward Bound.

Jerrold Archie, another member of the COM winning team who attends La Marque High School, said the best part of the day was "meeting different schools, getting to know different people."

Upward Bound is a federally funded program designed to increase the college graduation rate of low-income and first-generation college students. Students in the program participate in a five-week intense summer program to give them a head start on the next school year as well as attend tutoring and other activities throughout the year.