Kids fish for education
Jun 28, 2013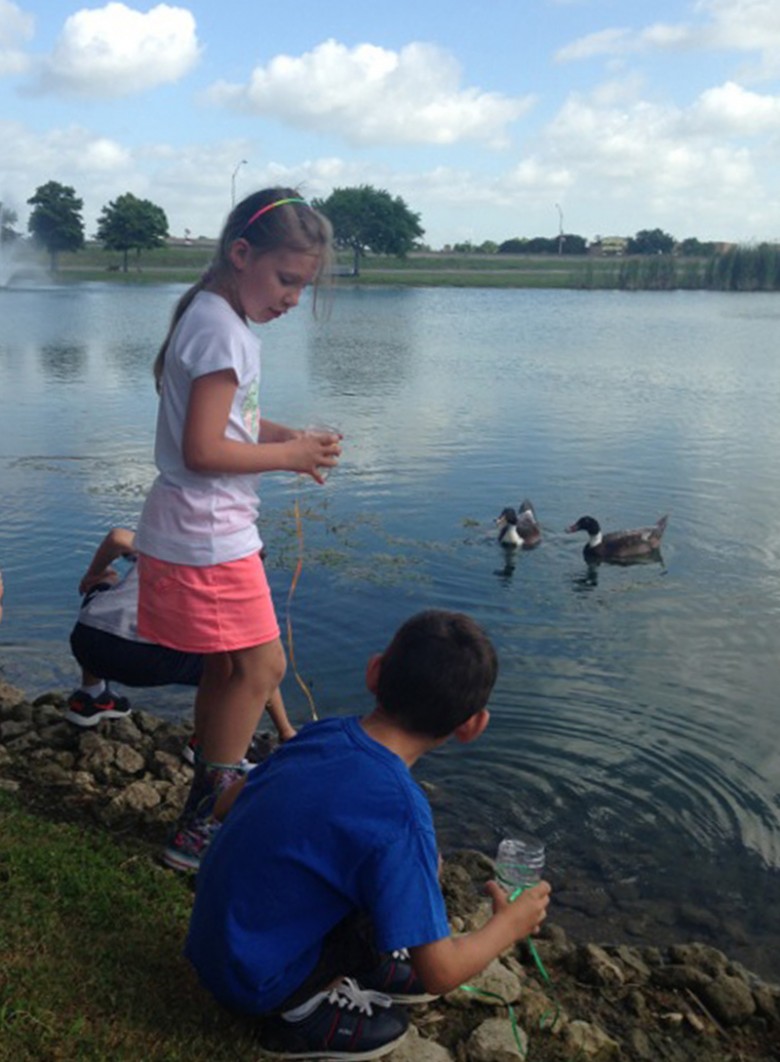 "Mr. Robert, Mr. Robert, I caught a fish!" Students' excited cries fill the air as they lure minnows into their fishing "nets" flung into the lake outside College of the Mainland.

Robert Castro offers direction to the assembled six to nine-year-olds, instructing them to let down their handmade fishing tools, water bottles cut in half and tied with string.

"It won't sink," complains an impatient student, who hasn't yet caught a fish.

"It will," Castro assures him.

The student watches, entranced as his "net" slowly fills with water. A couple of curious ducks wander over to investigate the commotion, perhaps lured by the dog food students scattered as fish bait.

Fishing in the shade with a summer breeze, Castro and his students considered it a successful day.

"We were top-notch in the fishing department," said Castro.

The fishing expedition is just one of the many outdoor activities students in COM's Child Development Lab School's Summer Program have explored this month. They've also gone hunting for the creepy crawlers that abound in summer's heat. Many of the school's ideas for outdoor activities are inspired by Texas Parks and Wildlife Project WILD Curriculum.

"It really is a great outdoor curriculum," said Castro, COM Director of Child Development.

During Project WILD Workshops at COM on July 18, 19 and 20, child development instructor Anna Raumaker will show other educators, homeschooling parents and child care providers ways to spark a love of the outdoors in students. For more information and registration, email araumaker@com.edu.

The following is the schedule of Project WILD Workshops.

Project WILD Workshop
Thursday, July 18, 9 a.m. - 4 p.m.
Cost: $25
This educators workshop demonstrates the Project WILD program, an environmental and conservation education program for kindergarten through 12th grade students emphasizing awareness, appreciation and understanding of wildlife and natural resources.

Project WILD Aquatic Workshop
Friday, July 19, 9 a.m. - 4 p.m.
Cost: $25
This workshop shows educators how to use the Project WILD Aquatic curriculum and activities for kindergarten through 12th grade students, which emphasize aquatic wildlife and aquatic ecosystems.

Growing Up Wild
Saturday, July 20, 8:30-11:30 a.m.
Cost: $25
This workshop demonstrates the Growing Up WILD project, an early childhood education program that builds on children's sense of wonder about nature and invites them to explore wildlife and the world around them.