Captivating images win photo contest
May 10, 2013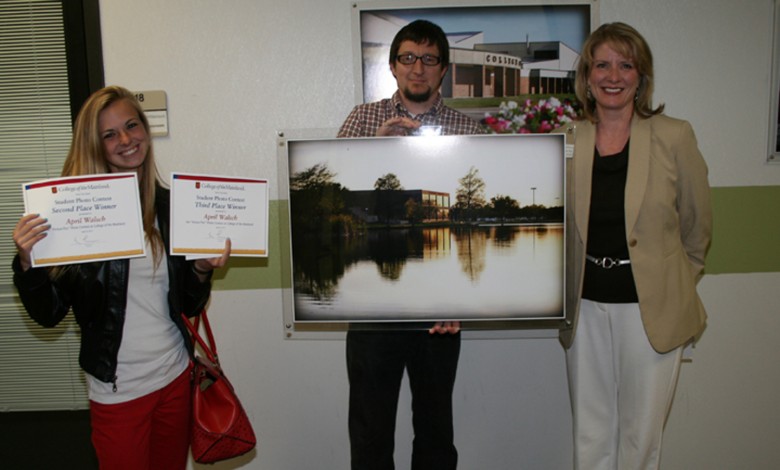 The snow-colored ducks, clear-blue pond and springtime-green lawns of College of the Mainland are vividly captured in the winning images of the Picture This: Student Photo Contest.

COM student Curtis Gillentine's painting-like photo of the lake view claimed first place, and COM Collegiate High School student April Walsch's pictures of a lone white duck and of the Student Center's reflection on the lake earned second and third place.

"We were excited to be able to showcase the many photographic talents of our students," said Dr. Beth Lewis, COM president. "There are a number of visually interesting features on campus and felt that posting these photographs would be a great way to make the halls of the buildings more attractive."

For his winning photo, Gillentine layered three images—one overly exposed, one correctly exposed and one underexposed—to give his photo its artistic look. The student began taking photography classes at COM as an elective and has advanced to COM's Photography 3 class, which introduced him to the technique used in his photo.

"I was learning to use HDR (high-dynamic-range imaging) and was just playing around with it and ended up winning. I was more than shocked," said Gillentine.

The class has spurred his interest, and he is now considering moving from a nursing focus to COM's Graphic Design Program to allow him to continue pursuing art and photography.

"I've always liked taking pictures. I bought an SLR (single-lens reflex camera) and wanted to learn how to use it properly," said Gillentine. "Now I've got it pretty well mastered."

Second and third-place winner April Walsch is no stranger to COM photo contests. Last spring she won COM's Oh Snap! cell phone contest. Her photos of a duck skimming the lake's surface and of the Student Center's reflection on the lake both placed. She also digitally enhanced her images, using her photo-editing skills "to make the colors pop on the water," she said.

The junior in COM's Collegiate High School will graduate with an associate degree next year and wants to major in business and minor in photography at the University of Houston-Clear Lake.

"I plan on sticking with (photography)," she said. "When I look at a picture, I don't look at it as is but as how it could be."

The winning photographs along with seven other honorable mention pictures taken by college staff and students, including two more by Walsch, are on display in COM's Technical-Vocational Building.