Elementary school students explore careers during workshop
Feb 18, 2013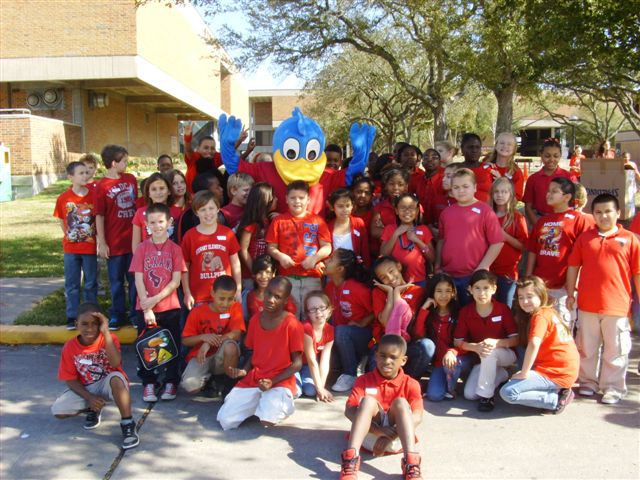 "What do I want to be when I grow up?" is a question that poses endless possibilities for a child. Recently, 90 fourth-grade students from Stewart Elementary explored the world of career options through hands-on activities at College of the Mainland.
Students spent the morning listening to a manikin's heartbeat in the nursing department, enjoying music in the fine arts building and learning how to use resources in the library. Along the way, they discovered that education can be fun as well as challenging and that college staff are always ready to help.

"It was interactive. They got to do things and see careers they might want to study when they are older," said Martin Perez, COM director of admissions.

In the nursing department Deanna Machula, COM skills lab coordinator, helped students rotate through stations, alternately listening to the computerized manikin breathe, learning about proper hand washing and practicing caring for a baby.

"It was a little bit of everything. We talked about what nurses do. We explained the use of the stethoscope. Students got to listen to each other's lung sounds if they wanted," said Machula.

In the fine arts department, students discovered through an art project how artists collaborate to generate ideas. Each student selected two images by the master portrait painters—Botticelli, Clouet and others—and superimposed one onto the other. Then they used high-quality ink pens to create a third portrait on top of them, using some of the masters' lines and some of their own.

"We told them, 'Don't worry about making mistakes. An art lab is a great place for experimenting,'" said Mark Greenwalt, art professor.

The visit highlighted areas that the student's fourth grade counselor requested they visit.

"We cater to what the schools want," Perez said. "We can also give an introduction to trades—welding, HVAC, electrical or machinist."

One of the program's goals is to help create a college-going culture, so that when students graduate from high school, college is the natural next step.

"They're never too young to learn about higher education," said Perez.

For information on how to customize a hands-on tour for students, contact Martin Perez at mperez@com.edu or 409-933-8653.