Ensemble wows at jazz conference
Feb 1, 2013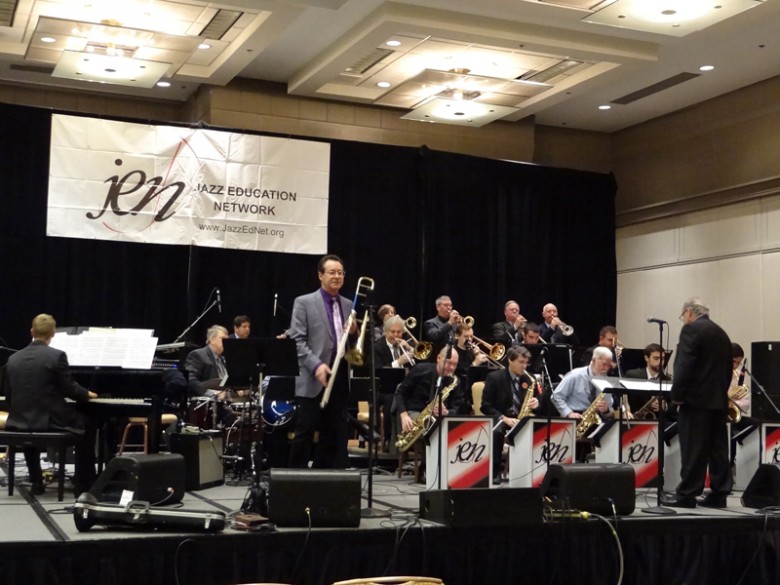 Joining a panoply of musicians from across the nation, the College of the Mainland Jazz Ensemble displayed their talents at the recent Jazz Education Network Conference in Atlanta. The only community college performing instrumentally, the ensemble was accompanied by guest artist Tom "Bones" Malone, of the CBS Orchestra.
"The great thing about the event is it features musicians from elementary school students to professionals," said Sparky Koerner, director of the Jazz Ensemble, which was selected by audition to perform. "You're immersed in the music."

The group regaled an audience of around 300 with tunes such as "A Night in Tunisia" and "One-Note Samba."

"Performing with Tom 'Bones' Malone was fun. I'll consider the opportunity to perform with him as one the highlights of my playing career. This conference crowd was one of the largest I've played in front of," said trumpeter Kim Chavez, who has played with the ensemble for 11 years.

Ensemble musician Charles Delgado, of Galveston, performed a saxophone solo during the lively "Latin Dream."

"The most rewarding thing to me is playing with some very talented musicians," said Delgado, who's been playing music since he was 9 years old. "It's always great to get together and see what's going on in other parts of the country."

Trombonist Kendal McLaughlin, a senior at Santa Fe High School, said that playing with the ensemble is helping him to improve his skills in preparation for majoring in music in college.

"It is not often you get to play in front of a roomful of some of the best jazz musicians in the world," said McLaughlin. "When it is expected of you to play with some stellar musicians, you immediately push yourself that much harder to improve yourself."

The Jazz Ensemble regularly performs a challenging selection of music in concerts at COM and is comprised of artists of all professions from students to engineers.

"We have a dentist on the drums," said Koerner.

The Jazz Ensemble's next performance is Feb. 23 at 6 p.m. at the Texas City High School Auditorium. Guest artist Johnny Gonzales, one of the leading saxophonists in the Houston area, will accompany the group. This event is free of charge. For more information, call 409-933-8347.