Caffeine craving fuels winning speech
Dec 3, 2012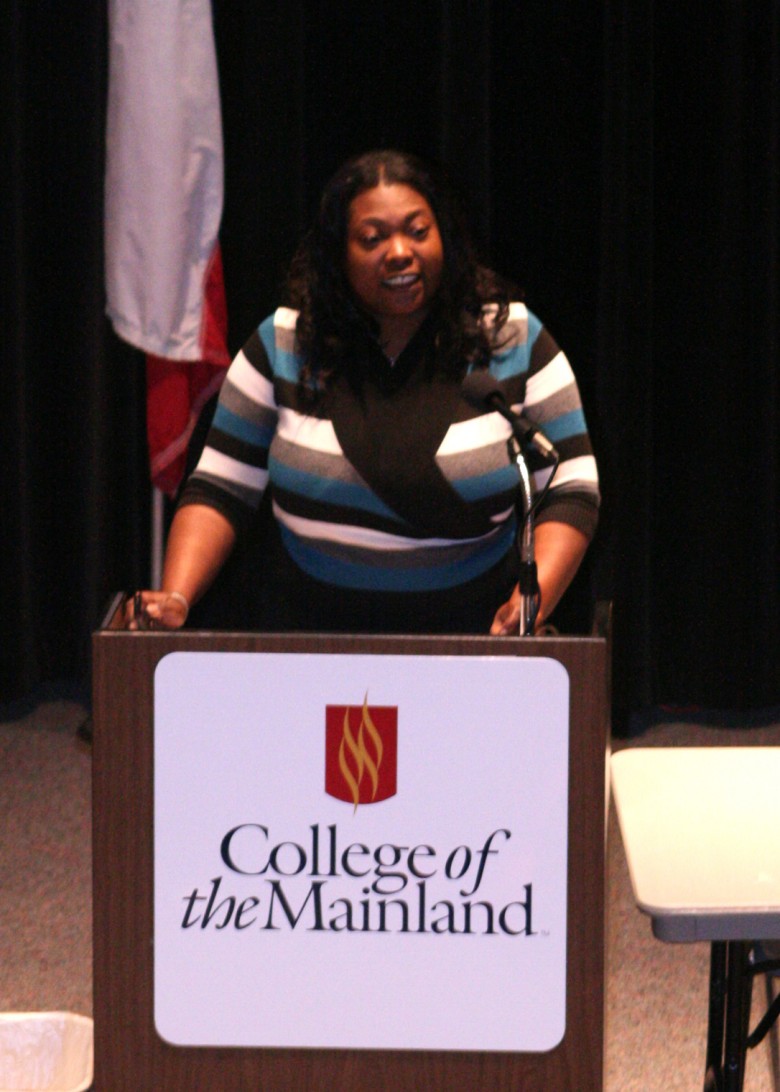 College of the Mainland student Deneika Herron freely confessed her obsession at COM's first annual Roger Stallings Student Speech Competition.

"My love and addiction to 'liquid crack' led me to research Starbucks," she began, referencing her love for coffee.

During her speech, "The Rise of the Most Famous Coffeehouse in the World," she revealed the depth of her knowledge of the double-shot provider. Detailing all things Starbucks—from its name inspired by a character in the novel Moby Dick to its evolving mermaid logo—she discussed what has shaped a company and a nation.

"Starbucks made what Americans got for a quarter a luxury purchase," she said. "[It's reached] the zenith of success."

After her speech in the second round, she was the highest ranked of the four finalists. COM students Karmyn Spino-Chartre, of Texas City; Shaina Erwin, of Dickinson; and Courtney Oberndorfer, of Santa Fe, came in second, third and fourth place respectively.

"She was very articulate and her topic was well-researched. She infused humor into her speech and is a great representative of what our students accomplish at COM," said Kris Kimbark, associate vice president of student services and one of the judges of the competition.

Herron is no stranger to the world of debate and competition. At Ball High School, she was captain of the speech and debate team. She is constantly striving to improve her skills, which motivated her and a group of friends to learn one new word a week.

Currently she is pursuing an associate degree at College of the Mainland and plans to transfer to the University of Houston-Clear Lake to earn a bachelor's degree in accounting.

She also plans to continue watching her favorite coffeehouse's trends.

"I am looking forward to Starbucks' next chapter and its next cup," she said.