International Students
2020-2021 International Students Handbook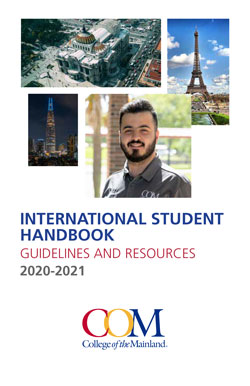 ---
Admissions Requirements for Students Who Reside Outside the United States
Students who are not United States citizens and are living outside the United States must apply for an F-1 Visa (student visa) at the American embassy in their home country. Students applying for an F-1 Visa must take a signed copy of their I-20 to the embassy. The I-20 will be sent to student's home country only after all of the required documents have been completed and submitted to College of the Mainland.
Please file the required documents at least six weeks prior to the deadline listed below in which you intend to begin your studies. A student will not be considered for admissions until all required credentials have been received.
Deadlines
Fall Semester – July 1
Spring Semester – Nov. 11
All documents submitted must be originals or notarized/certified copies.
Documents submitted after the deadline will not be accepted.
1. Application for Admission
The application must be completed online at www.applytexas.org.
2. Official Transcripts
Students applying to College of the Mainland must have completed high school in their home country (U.S. equivalent of 12 years of education) before applying for admission. Students must submit all the official transcript(s) (or notarized copies) from all U.S. and foreign educational institutions attended at the high school and/or university/college level.
COM also requires proof that you have had these transcripts evaluated by an accepted evaluation company from the list provided; COM will not accept transcripts that have not been evaluated.
3. English Language Proficiency
COM requires all international students to submit an English language proficiency test score.
A student may be admitted into an academic program with a minimum score of:
TOEFL (Test of English as a Foreign Language)
550 (Paper-based test)
213 (Computer-based test)
79 (Internet-based test)
TOEFL website: www.ets.org/toefl
IELTS (International English Language Testing System)
IELTS Website: www.ielts.org
---
You may be exempt from the English language proficiency requirements due to one of the following:
Attendance and graduation from a U.S. high school
Successful completion of college-level English from an accredited U.S. college or university
Successful completion of an intensive English program
4. Financial Documentation
The amount that is required as financial support for one year is $22,000 (U.S. currency) and will be checked annually at the beginning of each fall semester. To show proof of this financial support, you are required to provide us with the following two documents:
Bank statements on official bank letterhead, no older than six months,
or a letter from a U.S. employer stating annual income may also be accepted (sponsor).
5. Application for an I-20
The above International Student Application Form (I-20) must be completed and submitted. This application is to provide the student with an I-20 which will be needed when applying for an F-1 Visa at the U.S. embassy.
An I-20 form will be prepared by the Office of Admissions and Records only when all of the above documentation is submitted and on file.
6. SEVIS Transfer Release Form
Submit the following form only if you are transferring from another U.S. college or university:
For more information, read SEVIS Fee Instructions.
7. Requesting Express Mail
If you want to get your documents faster, you can use COM's express shipping via FedEx, DHL or UPS but there is an extra expense for students.
Initial I-20 requests: Wait until we send you an email letting you know your document has been issued before you request an eShip delivery. To request express mail service, go to eShip. The site works best with Internet Explorer or Mozilla Firefox browsers. Do not go to the DHL, FedEx or UPS sites directly.
Create your own account with your own user name and password. Have the following items ready:
Your COM ID
Mailing address
Email address
Telephone number
Credit card information
Choose Department/Contact "Office of Admissions" as the sender
When you have completed the request, eShip will send you an email that includes a tracking number and order details for your shipment. If you experience any problems when using the online service, please use the help feature on their website.