The Salon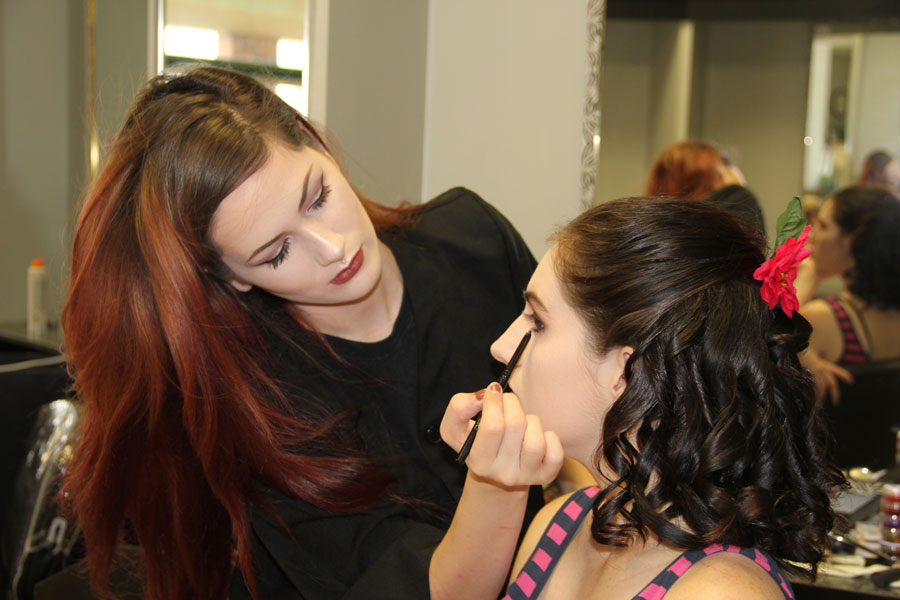 COM Cosmetology – The Salon
The philosophy of College of the Mainland Cosmetology Department is to provide a learning environment for the student in which the client and the student both benefit.
The training our students receive while delivering professional services will stay with them throughout their entire career. We encourage our clients to give us feedback that will aid with the student learning.
Appointment Times
Thursday, 8:30 a.m. – 3 p.m.
Friday, 8:30 – 3 p.m.
Lunch Times
Thursday, noon – 1:30 p.m.
Friday, noon – 1 p.m.
Menu of Services
Download Menu of Services (PDF)
Hair Cutting Services (Includes Shampoo)
| Service | Price |
| --- | --- |
| Men's Hair Cut | $7 |
| Women's Cut Only | $10 |
| Edge Up | $3 |
| Bang Trim | $3 |
Hair Styling Services (Includes Shampoo and Style)
| Service | Price |
| --- | --- |
| Shampoo Only | $5 |
| Shampoo Blowdry & Heated Style | $10 & up |
| Wet Set & Style | $10 & up |
| Wrap & Style | $10 & up |
| French Braid (1 or 2) | $5 each |
| Corn Rows up to 10 | $3 each |
| Up Styles | $15 & up |
| Specialty Wet Sets | $18 |
Add on
| Service | Price |
| --- | --- |
| Deep Conditioning | $5 & up |
| Add hair to braid in | $5 |
"And Up" on pricing depends on length and density
Hair Color Services (Includes Shampoo, Haircut & Blowdry)
Service
Price

Add on for Roller/Wet Set

$5
Add on Heated Style
$5
Virgin Bleach
$50 & up
Bleach Retouch 1" regrowth
$35
Hair Color 2 oz. application
(extra color per 2 oz.)
$25
$5
Hair Color and Highlights
$45 & up
Hair Color, High and Low Lights
$50 & up
Cap Highlights
$25 & up
Highlights
$40 & up
Highlights & Lowlights
$45 & up
Chemical Services (Includes Shampoo, Haircut & Blowdry)
Service
Price
Add on for Roller/Wet Style
$5
Add on for Heated Style
$5
Relaxer Virgin 5 oz.
$30 & up
Relaxer Retouch 1" regrowth 3 oz
(extra product per 1 oz.)
$25 & up
$5
Permanent Wave
(extra perm wave per box)
$25 & up
$5
Straightener with Thio
$25 & up
Smoothing Treatment 2 oz. application
(extra product per 1 oz.)
$125 & up
$15
Spot Relaxer
$15
Facial and Skin Treatments
| Service | Price |
| --- | --- |
| Take a Moment Facial | $12 |
| The Journey Facial | $14 |
| The Extreme Facial | $18 |
| Microdermbrasian | $20 |
| COM Signature Chemical Peel | $20 |
| LED Photo Light Facial | $20 |
| Eyebrow Tint | $6 |
| Eyelash Tint | $6 |
| Eyebrow and Lash Tint | $10 |
| Brow Wax | $6 |
| Lip Wax | $6 |
| Chin Wax | $6 |
| Facial Wax | $15 |
| Anti Aging Lip Treatment | $6 |
| Anti Aging Eye Treatment | $6 |
| Anti-Aging Lip and Eye Treatment | $10 |
| Micro-Needling | $20 |
Nail Services
| Service | Price |
| --- | --- |
| Spa Manicure | $10 |
| Spa Pedicure | $12 |
| Polish Change | $2 |
| Shellac | $20 |
| Dip Acrylic | $25 |
---
The Salon – Location
Cosmetology The Salon
Gulfway Plaza Outlet Mall
11001 Delany Rd., Suite 15009
La Marque, Texas 77568
409-933-8480
Houston toll-free 1-888-258-8859, ext. 8480