COM Theatre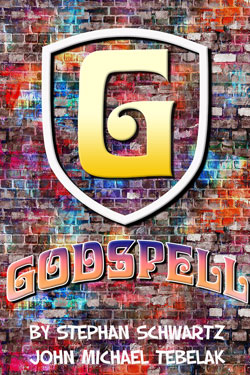 Godspell
March 24 – April 10, 2022
by Stephen Schwartz and John-Michael Tebelak
Based on the Gospel according to Matthew, Godspell was the first musical theatre offering from composer Stephen Schwartz, who went on to write such well-known hits as Wicked, Pippin, and Children of Eden. Breaking new ground when it appeared on Broadway in 1971, it features a comedic troupe of eccentric players who team up with Jesus to teach his lessons in a new age through parables, games, and tomfoolery. Featuring the international hit, "Day by Day", as well as an eclectic blend of songs ranging from pop to vaudeville, Jesus' final days come to life onstage. Even after the haunting crucifixion, Jesus' message of kindness, tolerance and love lives vibrantly on.
---
2021-2022 Season
The COM Theatre announces the upcoming 2021-2022 season:
"Sylvia" by A. R. Gurney SHOW CANCELLED
"A Divine Kerfuffle" by H. Russ Brown
"Godspell" by Stephen Schwartz and John-Michael Tebelak
"Let the Right One In" In by Jack Thorne
"Beyond Therapy" by Christopher Durang SHOW CANCELLED
"The SpongeBob Musical" by Kyle Jarrow and Tina Landau
2021-2022 Season Brochure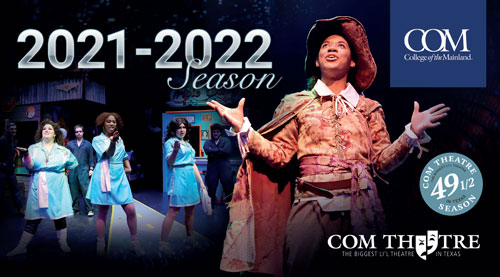 Download the 2021-2022 COM Theatre Season Brochure
---
Theatre Box Office
Call the Box Office at 409-933-8345 or 1-888-258-8859, ext. 8345.
Since 1972, COM Community Theatre has presented over 228 productions including children's theatre, concerts and workshops with attendance of more than a quarter of a million people. The theatre has been recognized as one of America's leading community theatres, setting high production standards and developing one of this country's most innovative programs.
Beyond education, the College of the Mainland Theatre bears a three-fold commitment: to provide quality theatrical experiences for residents of the area, to offer a forum for local and regional talent by holding open auditions and to extend the reputation of College of the Mainland.