Community Theatre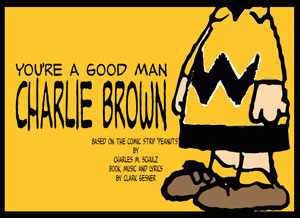 You're a Good Man, Charlie Brown
Jan. 24 – Feb. 10, 2019
Based on the Comic Strip "PEANUTS" by Charles M. Schulz / Book, Music & Lyrics by Clark Gesner
Charles Schulz's beloved comic comes to life in this classic musical. The whole gang is here: bossy Lucy is hopelessly in love with piano prodigy Schroeder who doesn't give her the time of day, perfectionist Sally is still mocking blanket-toting Linus, Snoopy is in the doghouse, and the loveable ol' "blockhead" himself, Charlie Brown, STILL can't get that stupid kite to fly! Swinging from wild toe-tapping optimism to utterly hilarious despair, the joyful innocence of the Peanuts gang ultimately wins the day in this crowd-pleasing classic!
2018-2019 Season
The COM Community Theatre announces the upcoming 2018-2019 season:
"Driving Miss Daisy" by Alfred Uhry
"Noises Off" by Michael Frayn
"You're a Good Man, Charlie Brown" based on the Comic Strip "PEANUTS" by Charles M. Schultz
"Born Yesterday" by Garson Kanin
"The Glass Menagerie" by Tennessee Williams
"Thouroughly Modern Millie" Music by Jeanine Tesori / Lyrics by Dick Scanlan / Book by Richard Henry Morris & Dick Scanlan
2018-2019 Season Brochure
View/Download the 2018-2019 Season Brochure (PDF)
---
Theatre Box Office
Call the Box Office at 409-933-8345 or 1-888-258-8859, ext. 8345.
Since 1972, COM Community Theatre has presented over 228 productions including children's theatre, concerts and workshops with attendance of more than a quarter of a million people. The theatre has been recognized as one of America's leading community theatres, setting high production standards and developing one of this country's most innovative programs.
Beyond education, the College of the Mainland Theatre bears a three-fold commitment: to provide quality theatrical experiences for residents of the area, to offer a forum for local and regional talent by holding open auditions and to extend the reputation of College of the Mainland.
---