COM Theatre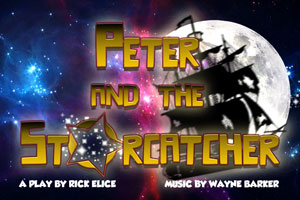 Peter and the Starcatcher
Nov. 7 – Nov. 24, 2019
Book by Rick Elice / Music by Wayne Barker
This Tony award-winning musical upends the century-old story of how a miserable orphan comes to be The Boy Who Would Not Grow Up (a.k.a. Peter Pan). A tune-filled, wildly theatrical adaptation of Dave Barry and Ridley Pearson's best-selling novels that center on a young orphan, his mates, and a precocious young girl named Molly as they fight to keep the contents of a mysterious treasure chest from falling into the clutches of the fearsome villain, Black Stache. Filled with marauding pirates, jungle tyrants, mermaids, and unlikely heroes, Peter and the Starcatcher is a thrilling adventure that playfully explores the depths of greed and despair... and the bonds of friendship, duty and love.
---
2019-2020 Season
The COM Theatre announces the upcoming 2019-2020 season:
"Moonlight and Magnolias" by Ron Hutchinson
"Peter and the Starcatcher" Book by Rick Elice / Music by Wayne Barker
"The Tin Woman" by Sean Grennan
"The Voice of the Prairie" by John Olive
"God of Carnage" by Yasmina Reza
"Little Shop of Horrors" Book and Lyrics by Howard Ashman / Music by Alan Menken
2019-2020 Season Brochure
View/Download the 2019-2020 Season Brochure (PDF)
---
Theatre Box Office
Call the Box Office at 409-933-8345 or 1-888-258-8859, ext. 8345.
Since 1972, COM Community Theatre has presented over 228 productions including children's theatre, concerts and workshops with attendance of more than a quarter of a million people. The theatre has been recognized as one of America's leading community theatres, setting high production standards and developing one of this country's most innovative programs.
Beyond education, the College of the Mainland Theatre bears a three-fold commitment: to provide quality theatrical experiences for residents of the area, to offer a forum for local and regional talent by holding open auditions and to extend the reputation of College of the Mainland.