Resources
Serving Those Who Served
College of the Mainland's Veterans Affairs Office assists veteran students and eligible dependents in securing VA educational benefits. This office processes applications for all Hazlewood and veterans benefits. In addition, the office provides information and advises veterans and their dependents regarding eligibility requirements, monitors academic progress and provides referrals to other agencies.
---
Veterans LibGuide
Learn about the history of our veterans, Veterans Day and the USO, and access resources for veterans and their families.
---
H.B. 846
Policy Protecting Students from Fees and Penalties Due to VA Payment Delay. State of Texas H.B. 846 also fully states that an institution of higher education or a private or independent institution of higher education may not impose additional fees, obligations, or burdens concerning payment or registration on a student.
---
Hazlewood Act
The United States Department of Education requires standards of satisfactory progress for students who receive federal funds. Measures must include the student's total academic history, regardless of whether the student received financial aid at the time. In compliance with federal regulations, College of the Mainland has established a policy applicable to all financial aid recipients including those who have accepted student loans and those who work on campus and are not eligible for federal funding.
The Hazlewood Act assists Texas veterans and their eligible dependent children and spouses. Click on the Hazlewood benefits link to see eligibility requirements.
---
G.I. Bill®
---
Tuition Assistance
Active duty service members and reservists may be eligible for military Tuition Assistance. Please speak directly to the Educational Office for your assigned unit before enrolling and beginning classes at College of the Mainland.
Learn more about tuition assistance
---
Lone Star Veterans Association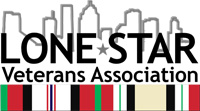 Help make Houston the best place for post-9/11 veterans and their families. Veterans of Operation Enduring Freedom and Operation Iraqi Freedom (OEF/OIF) share a common bond that will connect us for the rest of our lives.
Since its inception in spring 2009, the Lone Star Veterans Association has become the mentoring and networking arm of the Returning Veterans Initiative. The organization works closely with other government organizations such as the Department of Veterans Affairs, the state of Texas, Harris County and the city of Houston to develop ongoing programs to further assist our local service members, veterans and their families.
LSVA membership is free to all post-9/11 vets and their families. LSVA will provide an accessible support system and social outlet for the service members transitioning back into civilian life through programs, events and peer mentoring. If you have been out of the service for years or simply a few weeks, we invite you to join us to help our brothers- and sisters-in-arms translate experience and skills from the battlefield into successful civilian life.
Learn more about Lone Star Veterans Association by visiting www.lonestarveterans.org.
---
Worklife Institute's Texas Veterans Program
Worklife Institute's Texas Veterans Program offers the following services free of charge for veterans and their families:
Career Transition Counseling: Counseling on career direction and education, creating resumes, researching companies that are hiring, interviewing, evaluating and accepting offers and getting a good start to a new job
Family and Personal Transition Counseling: Individual, marriage and family counseling; parenting education; and family and divorce mediation
Legal and Financial Consultation: Attorney available for consults and discounted legal services, civil and family matters and financial and debt counseling
Work Orientation and Resources: Information on adapting to new workplaces, safety and health on the job, apprenticeship programs and more
Workshops: Mediation training (40-hour and family), preparing resumes and job search, parenting and financial planning
Visit us at www.worklifeinstitute.com for more information.
---
Servicemembers Opportunity Colleges
College of the Mainland is a proud member of this unique civilian-military partnership.
Servicemembers Opportunity Colleges (SOC) was created in 1972 to provide educational opportunities to service members who, because they frequently moved from place to place, had trouble completing college degrees. SOC functions in cooperation with 15 higher education associations, the Department of Defense and Active and Reserve Components of the military services to expand and improve voluntary postsecondary education opportunities for service members worldwide.
Learn more about SOC. (Click on "SOC Consortium," then click on "SOC Consortium Member Institutions," then select a state and an alphabetical school list will appear)
---