Exhibition Proposals
College of the Mainland Art Gallery is accepting proposals for exhibitions at:
Main Gallery
Satellite Gallery
All media is accepted, and site-specific installation is also encouraged.
Submission Guidelines:
Please email the following to mgray@com.edu
15-20 jpegs of sample works
Artist statement
CV or resume
Proposal
Artist talk/Art lecture:
An artist gallery talk or art lecture may be planned during the exhibition period.
Delivery/ Pick up of works:
The artist will be responsible for the delivery and pick up of the artworks unless otherwise arranged. If it is an installation work, the artist will be responsible for the installation. Some honorarium is available to assist the cost of delivery/shipping.
Liability:
Main Gallery:
The artworks are insured from door to door.
Satellite Gallery:
All works are handled with professional manner, and all the exhibition spaces are closely monitored by the campus police. However, College of the Mainland will not be responsible for any damage or loss. If insurance is desired, it must be arranged by the artist while the artwork is in transit and for the duration of the exhibition.
Dimensions:
Main Gallery – Floor Plan ft./in.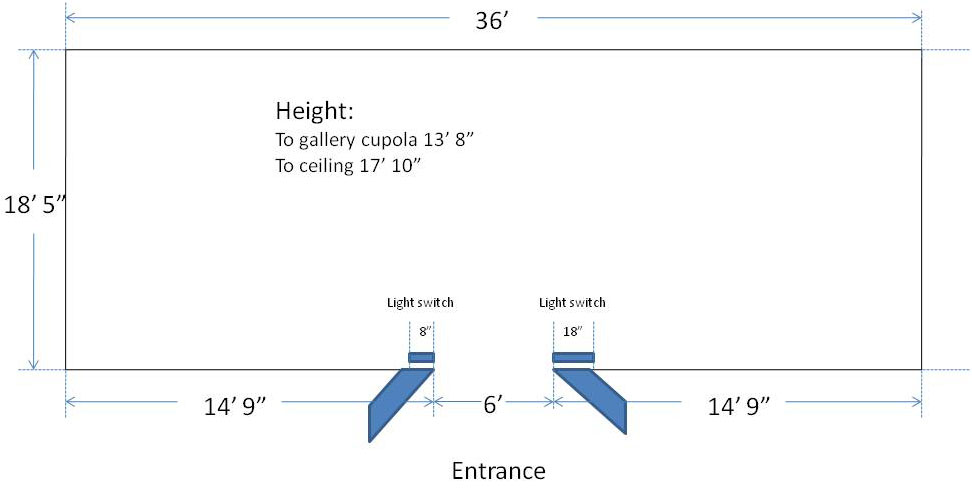 Satellite Gallery – Floor Plan ft./in.

Contact:
Mayuko Ono Gray, COM Art Gallery director
Email: mgray@com.edu
Website: www.com.edu/art-gallery
Facebook: www.facebook.com/comartgallery
Instagram: comartgallery