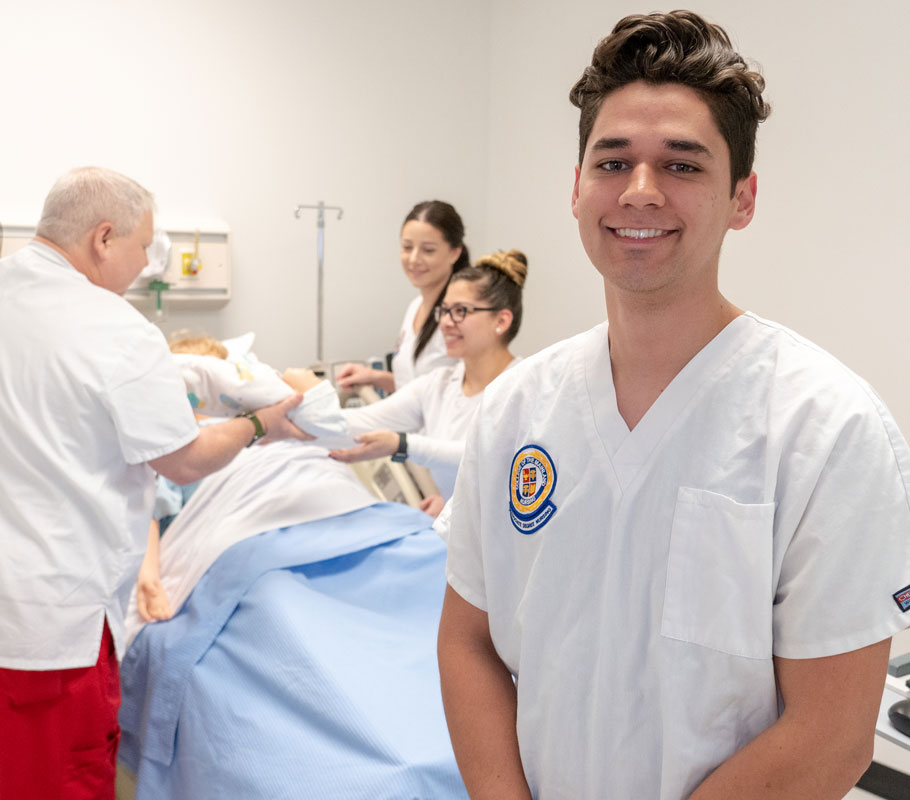 Associate Degree Nursing AAS
Nursing isn't just a career it's a calling! Make a difference in someone's life.
If you enjoy taking care of others and want to support a medical team in caring for patients, a nursing career is waiting for you! A rewarding career in nursing begins with training and preparation.
COM Registered Nursing Program prepares students to deliver quality patient care in a variety of health care settings. We offer small class sizes, with faculty who dedicate themselves to student success. Academic Coaches are available for individual and group sessions at no cost to the student.
Program Details
Next Start Date
Fall 2022
Learning Format
In Person
Career Insights
Occupational summary for Registered Nurse

2,986,500 Annual Job Openings
(2020)

9% Projected Growth
(2020-2030)

$80,010 yr Median Salary

Additional Program Info
Information Session:
August 15, 2022, 7 p.m. – STEAM Building, Room 120
August 29, 2022, 7 p.m. – STEAM Building, Room 120
September 12, 2022, 7 p.m. – STEAM Building, Room 120


Application Due Dates:
For Fall semester admission – 4th Friday in May
For Spring semester admission – Friday, September 23, 2022 at 5:00 p.m.
Complete all prerequisite courses with a final grade of C or higher and have a pre-req GPA of at least 2.8.
ENGL 1301 Composition I
BIOL 2401 Anatomy & Physiology I
BIOL 2402 Anatomy & Physiology II
BIOL 2420 Microbiology for Non-Science Majors
PSYC 2301 General Psychology
The Associate of Applied Science Degree in Nursing program at College of the Mainland located in Texas City, Texas, is accredited by the: Accreditation Commission for Education in Nursing (ACEN) 3390 Peachtree Road NE, Suite 1400 Atlanta, GA 30326 (404) 975-5000
The most recent accreditation decision made by the ACEN Board of Commissioners for Associate of Applied Science Degree in Nursing program is Continuing Accreditation
View the public information disclosed by the ACEN regarding this program at http://www.acenursing.com/accreditedprograms/programsearch.html
| | | | | | |
| --- | --- | --- | --- | --- | --- |
| | 2021 | 2020 | 2019 | 2018 | 2017 |
| College of the Mainland RN Candidates | 82.35% | 88.31% | 84.06% | 88.16% | 93.18% |
| Texas Average for RN Candidates | 86.77% | 91.00% | 91.90% | 91.62% | 89.77% |
| National Average for RN Candidates | 82.13% | 86.76% | 88.07% | 88.56% | 86.94% |