Torch
The College of the Mainland Newsletter
Volume ONE | Number TWO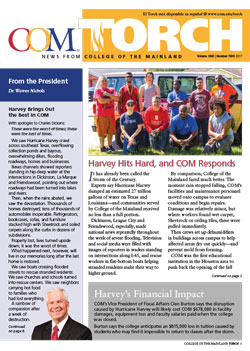 We saw Hurricane Harvey crawl across southeast Texas, overflowing collection ponds and bayous, overwhelming dikes, flooding roadways, homes and businesses.
News channels showed reporters standing in hip-deep water at the intersections in Dickinson, La Marque and Friendswood, pointing out where roadways had been turned into lakes and rivers.
Then, when the rains abated, we saw the devastation. Thousands of homes destroyed; tens of thousands of automobiles inoperable. Refrigerators, bookcases, sofas, and furniture stacked high with Sheetrock and soiled carpets along the curbs in dozens of subdivisions.
Property lost, lives turned upside down; it was the worst of times.
What happened next, however, will live in our memories long after the last home is restored.
We saw boats crossing flooded streets to rescue stranded residents. We saw churches and schools turned into rescue centers. We saw neighbors carrying hot food to families who had lost everything.
A rainbow of compassion after a week of destruction.
Continued on page 8.
EL BOLETÍN DE LA UNIVERSIDAD DE MAINLAND
Volumen UNO | Número DOS 2017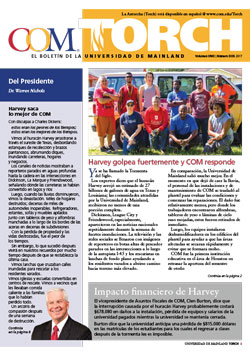 Vimos al huracán Harvey arrastrarse a través el sureste de Texas, desbordandoestanques de recolección y brazos pantanosos, abrumando diques, inundando carreteras, hogares y negocios.
Los canales de noticias mostraban a reporteros parados en aguas profundas hasta la cadera en las intersecciones en Dickinson, La Marque y Friendswood, señalando dónde las carreteras se habían convertido en lagos y ríos
Luego, cuando las lluvias disminuyeron, vimos la devastación. Miles de hogares destruidos; decenas de miles de automóviles inoperables. Refrigeradores, estantes, sofás y muebles apilados junto con tableros de yeso y alfombras manchadas a lo largo de los bordes de las aceras en decenas de subdivisiones
Con la pérdida de propiedad y las vidas destrozadas, fue el peor de los tiempos.
Sin embargo, lo que sucedió después vivirá en nuestros recuerdos por mucho tiempo después de que se restablezca la última casa.
Vimos lanchas que cruzaban calles inundadas para rescatar a los residentes varados.
Vimos iglesias y escuelas convertidas en centros de rescate. Vimos a vecinos que les llevaban comida caliente a las familias que lo habían perdido todo.
Un arcoíris de compasión después de una semana de destrucción.
Continúa en la página 8
Past Issues
Volume ONE, Number ONE – 2017