Torch
The College of the Mainland Newsletter
Volume TWO | Number TWO 2018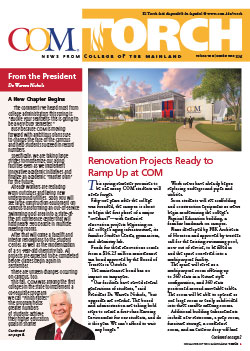 The comment I've heard most from college administrators this spring is: "Buckle your seatbelts; this is going to be a very busy semester."
Busy because COM is moving forward with ambitious plans sure to change the face of the campus and help students succeed in record numbers.
Specifically, we are taking large strides to modernize our aging facilities even as we implement innovative academic initiatives and finalize an academic "master plan" for the future.
Already workers are replacing worn out pipes and laying new underground utilities. Soon you will see large construction equipment on campus transforming an out-of-service swimming pool area into a state-ofthe-art conference center that will hold nearly 560 people in multiple meeting rooms.
After that will come a facelift and interior renovations to the Student Center, as well as the modernization of a 51-year-old chemistry lab. All projects are expected to be completed before classes begin again in September.
There are unseen changes occurring on campus, too. This fall, COM was among the first colleges in the state to implement a co-requisite program we call "Finish Faster."
The program helps greater numbers of students achieve their higher education goals in shorter
Continued on page 8.
EL BOLETÍN DE LA UNIVERSIDAD DE MAINLAND
Volumen UNO | Número DOS 2018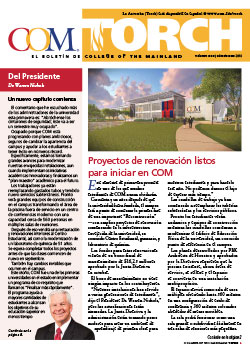 El comentario que he escuchado más de los administradores de la universidad esta primavera es: "Abróchense los cinturones de seguridad; éste va a ser un semestre muy ocupado".
Ocupado porque COM está progresando con planes ambiciosos, seguros de cambiar la apariencia del campus y ayudar a los estudiantes a tener éxito en números récord.
Específicamente, estamos tomando grandes avances para modernizar nuestras envejecidas instalaciones, aun cuando implementamos iniciativas académicas innovadoras y finalizamos un "plan maestro" académico para el futuro.
Los trabajadores ya están reemplazando gastados tubos y tendido nuevo servicios subterráneos. Pronto verá grandes equipos de construcción en el campus transformando el área de la piscina fuera de servicio en un centro de conferencias moderno con una capacidad cerca de 560 personas en múltiples salas de reuniones.
Después de eso vendrá una restauración y renovaciones interiores al Centro Estudiantil, así como la modernización de un laboratorio de química de 51 años. Se espera completar todos los proyectos antes de que las clases comiencen de nuevo en septiembre.
También hay cambios invisibles que ocurren en el campus.
Este otoño, COM fue una de las primeras universidades en el estado en implementar un programa de co-requisito que llamamos "Finalizar más rápidamente". El programa ayuda a mayores cantidades de estudiantes a alcanzan los objetivos de su educación superior en menos tiempo
Continúa en la página 8
Past Issues
Volume ONE, Number TWO – 2017
Volume ONE, Number ONE – 2017