Torch
The College of the Mainland Newsletter
Volume TWO | Number THREE 2018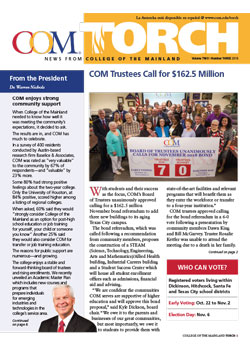 COM enjoys strong community support
When College of the Mainland needed to know how well it was meeting the community's expectations, it decided to ask.
The results are in, and COM has much to celebrate.
In a survey of 400 residents conducted by Austin-based research firm Baselice & Associates, COM was rated as "very valuable" to the community by 67% of respondents—and "valuable" by 23% more.
Some 80% had strong positive feelings about the two-year college. Only the University of Houston, at 84% positive, scored higher among a listing of regional colleges.
When asked, 60% said they would "strongly consider College of the Mainland as an option for post-high school education or job training for yourself, your child or someone you know" Another 25% said they would also consider COM for transfer or job training education.
The reasons for public support are numerous—and growing.
The college enjoys a stable and forward-thinking board of trustees and rising enrollments. We recently unveiled an Academic Master Plan which includes new courses and programs that prepare individuals for emerging industries and technologies in the college's service area.
Continued on page 8.
EL BOLETÍN DE LA UNIVERSIDAD DE MAINLAND
Volumen DOS | Número TRES 2018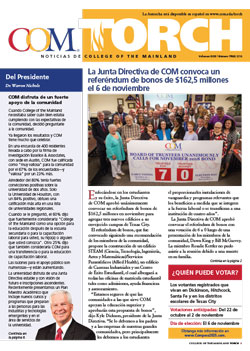 COM disfruta de un fuerte apoyo de la comunidad
Cuando College of the Mainland necesitaba saber cuán bien estaba cumpliendo con las expectativas de la comunidad, decidió preguntarle a la comunidad.
Ya llegaron los resultados y COM tiene mucho que celebrar.
En una encuesta de 400 residentes llevada a cabo por la firma de investigación Baselice & Associates, con sede en Austin, COM fue calificada como "muy valiosa" para la comunidad por el 67% de los encuestados—y "valiosa" por un 23% más.
Alrededor del 80% tenía fuertes convicciones positivas sobre la universidad de dos años. Solo la Universidad de Houston, con un 84% positivo, obtuvo una calificación más alta en una lista de universidades regionales.
Cuando se le preguntó, el 60% dijo que fuertemente consideraría "College of the Mainland como una opción para la educación después de la escuela secundaria o para la capacitación laboral para usted, su hijo(a) o alguien que usted conozca". Otro 25% dijo que también consideraría COM para una transferencia o para la educación de capacitación laboral.
Las razones para el apoyo público son numerosas—y están aumentando.
La universidad disfruta de una Junta Directiva estable y con visión de futuro e inscripciones ascendentes. Recientemente presentamos un Plan Maestro Académico que incluye nuevos cursos y programas que preparan a las personas para las industrias y tecnologías emergentes y en el área de servicios de la universidad.
Continúa en la página 8
Past Issues
Volume Two, Number Two – 2018
Volume ONE, Number TWO – 2017
Volume ONE, Number ONE – 2017