Community Theatre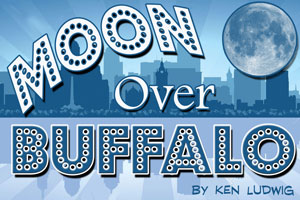 Moon Over Buffalo
March 23 – April 9, 2017
by Ken Ludwig
In the madcap tradition of Hollywood's screwball comedies, the hilarious Moon Over Buffalo centers on George and Charlotte Hay, fading stars of the 1950's. At the moment, they're playing Private Lives and Cyrano De Bergerac in rep in Buffalo, New York with only 5 actors. On the brink of a disastrous split-up caused by George's dalliance with a young ingénue, they receive word that they might just have one last shot at stardom: Frank Capra is coming to town to see their matinee, and if likes what he sees, he might cast them in his movie remake of The Scarlet Pimpernel. Unfortunately for George and Charlotte, everything that could go wrong does go wrong, abetted by a visit from their daughter's clueless fiancé and hilarious uncertainty about which play they're actually performing, caused by Charlotte's deaf old stage-manager mother who hates every bone in George's body.
---
Front Row Newsletter – The Drowsy Chaperone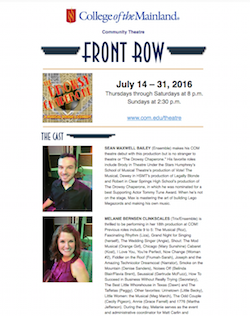 ---
Theatre Box Office
Call the Box Office at 409-933-8345 or 1-888-258-8859, ext. 8345.
Since 1972, COM Community Theatre has presented over 228 productions including children's theatre, concerts and workshops with attendance of more than a quarter of a million people. The theatre has been recognized as one of America's leading community theatres, setting high production standards and developing one of this country's most innovative programs.
Beyond education, the College of the Mainland Theatre bears a three-fold commitment: to provide quality theatrical experiences for residents of the area, to offer a forum for local and regional talent by holding open auditions and to extend the reputation of College of the Mainland.
---
Shows Remaining on the 2015-2016 Season
"The Drowsy Chaperone" Music & Lyrics by Lisa Lambert & Greg Morrison Book by Bob Martin & Don McKellar
For a schedule and description of each production view the 2015-2016 Season Brochure.
---
2016-2017 Season
The COM Community Theatre announces the upcoming 2016-2017 season:
"Crimes of the Heart" by Beth Henley
"COM Wasn't Built in a Day" by H. Russ Brown
"Lost In Yonkers" by Neil Simon
"Moon Over Buffalo" by Ken Ludwig
"Red" by John Logan
"Song of Singapore" by Alan Katz, Erik Frandsen, Robert Hipkens, Michael Garin and Paula Lockheart