Oaxaca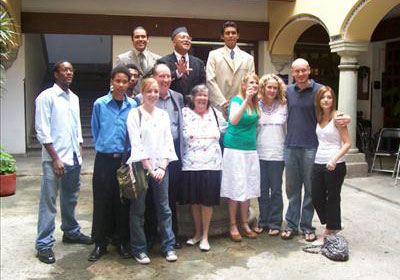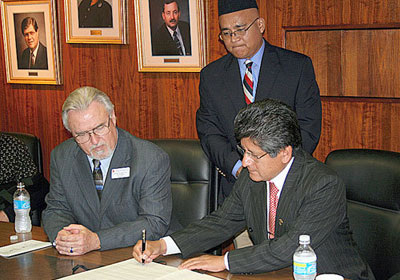 Thank you for your interest in College of the Mainland's Study Abroad Program in Oaxaca, Mexico. We hope to serve you in the future with your linguistic, cultural and academic interests and ask that you periodically check this page for updates.
---
OAXACA STUDY ABROAD PROGRAM
Director: Rafael Naranjo
Welcome to this great opportunity to join us in our annual linguistic and cultural immersion program in beautiful Oaxaca, México, a place where centuries-old dialects, folk arts, religious customs and the culture of the Mexican people survive and flourish. This program allows you to build your Spanish skills while enjoying a rich multicultural experience. Earn college credits (or professional CEUs) through the option of a four-week stay or a two-week stay. Learn, enjoy the rich culture and have a great time!
---
Program Director
Rafael Naranjo, a professor of languages for more than 20 years, is a native of Oaxaca. Rafael is an exciting and caring teacher who strongly believes that immersion is the best way to learn a language since it provides the opportunity to understand the culture and the history of the people. He stresses the importance of language as a vehicle of communication to avoid social conflicts and as a tool to better serve the community. Professor Naranjo teaches different levels of academic Spanish at College of the Mainland, and he is also in charge of the Spanish programs at the College.
Resident Director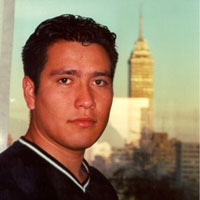 Z. Nadab Naranjo is a student at the School of Languages (Facultad de Idiomas) of the Universidad Autónoma "Benito Juárez" de Oaxaca. Nadab played an instrumental role in beginning and developing the program.
We feel lucky to have him back with us. Nadab is in charge of the daily communication between the program and the officials at the university—specifically with the faculty and administration of the School of Languages. He coordinates with the program advisor to ensure the students' safety and a comfortable learning environment. Contact Nadab at znadab@gmail.com.
Teachers at the University of Oaxaca
The teachers at the Facultad de Idiomas are university graduates who understand the cultural and linguistic problems faced by students studying abroad. The teachers work together to provide the students with an effective language program in a friendly atmosphere. Professor Naranjo will lecture on different topics regarding the history and cultures of Oaxaca and will also lecture on Spanish linguistics in English and in Spanish. Professor Naranjo will evaluate the academic progress of the students and will give the final grade for the courses taken.
The School of Languages at the University of Oaxaca
The Language School of the University of Oaxaca (Facultad de Idiomas de la Universidad Autónoma "Benito Juárez" de Oaxaca), established in 1974 and serving well over 1,500 Mexican students, offers courses in English, French, Italian, Japanese and German. The school also offers English classes for high school students and special courses in Spanish, Zapotec, Mixtec, Russian and Portuguese for adults. In 1987 the school expanded to offer international students a Spanish language program. The "Centro de Idiomas" was elevated to the rank of "Facultad" (Self-Governing School within the university system) in 2003.

Placement at the Appropriate Level
Noncredit students will be placed at the proper level with other participants of similar ability. Credit students will be placed at the level they have signed up for. The courses, though intensive, are flexible enough that the student has the opportunity to find the classes that are most appropriate for his/her learning goals. Art students must contact Mark Greenwalt at 409-933-8673 to inquire about art classes.
Course Credit/CEUs
Registration through the College of the Mainland will enable you to earn four credit hours of Spanish I or II in a two-week period (up to eight credits in a four-week period for both Spanish I and II). Spanish III and IV are worth three credit hours each in a two-week period. (You can earn up to six credit hours taking both of them in a four-week period).
Continuing education students will earn professional CEUs in Spanish. Accommodations: Homestay
You will stay with a Oaxacan family and live the culture as well as practice the language. The family will provide meals. Many homes are within walking distance of the school. Bus transportation or taxi is also available.
Transportation
In Oaxaca, transportation between the airport and homestays will be arranged by the resident director. You are responsible for your own transportation to/from George Bush Intercontinental Airport.
Clothing
Comfortable shoes are a must in Oaxaca because of the cobbled stone streets. Most of the year a light sweater or jacket is needed at night, and you will want an umbrella for the rainy days. Jeans, shorts and pants are acceptable. A swimsuit is suggested if you want to take a bus/plane trip to the beautiful Oaxacan beaches. This trip is usually taken the first weekend after you arrive in Oaxaca. Participation in this outing is not mandatory, and costs are not included in the price of your trip.
How and when do I sign up?
Persons wishing to register should complete a registration form. You can download it from this website and send it to us through the Internet. Registration itself does not automatically ensure acceptance into the program; it only gives you an opportunity to be considered. Because many of our programs are extremely popular, applications should be submitted as soon as possible.
Release Forms
Students are required to sign release forms in order to participate in the Oaxaca Study Abroad Program.
Travel documents
All participants are required to get a passport. No visa is required to enter Mexico. The College will not be held responsible if you do not have your passport when we depart for the trip.
Trip Cancellation
College of the Mainland reserves the right to cancel the program when the State Department issues a Travel Warning for Mexico. Travel insurance is highly recommended in the event the program is cancelled.
* Cost of Trip (These prices were for Summer 2014)
Four-week session: $ 2,150
2-Week session: $ 1,700
You may pay by MasterCard, VISA, Discover, American Express, money order, check or cash.
Noncredit students will have a $150 Noncredit Processing Fee.
Credit students and those needing CEUs will need to pay tuition and fees in the Office of Admissions and Records.
Cost of trip includes:
Lodging in the homestay while in Oaxaca
Three meals a day in a Oaxacan home
Transportation to and from Oaxaca airport
Special orientation before the trip and some cultural event fees
College of the Mainland tuition and fees are not included in this package. College tuition and fees vary according to residency (in or out of district).
Insurance
It is recommended that everyone purchase travel insurance in the event of trip cancellation or other emergencies. COM does not offer travel insurance.
Questions
If you have any questions, please feel free to call or email:
Professor Rafael Naranjo, Director
Rnaranjo@com.edu or oaxaca@com.edu
1-888-258-8859, ext. 8353

Mark Greenwalt
Professor of Art
mgreenwalt@com.edu
1-888-258-8859, ext. 8673