QEP Student Events
QEP Student Events
The QEP sponsors two annual events for students: the Words That Changed History Day and the Student Speakers Showcase. Both events are competitions that feature student speakers. The winners are awarded gift cards and certificates of participation.
Words That Changed History Day
Throughout history, words have sparked revolutions, advocated freedom, averted conflict and inspired nations. The Words That Changed History Day event features students delivering famous speeches from history. A student will select a speech from a list posted below and apply to present it. The QEP Student Events Committee will schedule auditions and select speakers for the event.
The application deadline is October 12, 2018. Audition dates are October 18 and 25, 2018.
Please see the Student Guidelines and Application links below for additional information.
---
Fall 2016 Speakers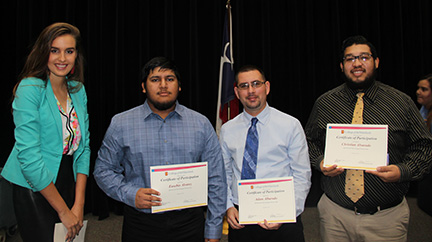 From left, Isabella Delgado, Eusebio Alvarez, Adam Albarado and Christian Alvarado
---
Student Speakers Showcase
This event features students whose oral presentations in a class demonstrate good oral communication. Instructors nominate students from their classes, and the QEP Student Events Committee holds auditions and selects the speakers for the event. This event is held each spring.
Spring 2016 Speakers
From left, Samuel Akinwande, Great Silvertooth, Quincy Reynolds and Esther Akinwande were top speakers awarded during COM's first QEP Speech Contest. Learn more.