Air Products donates $10,000 to COM Process Technology students
Oct 02, 2020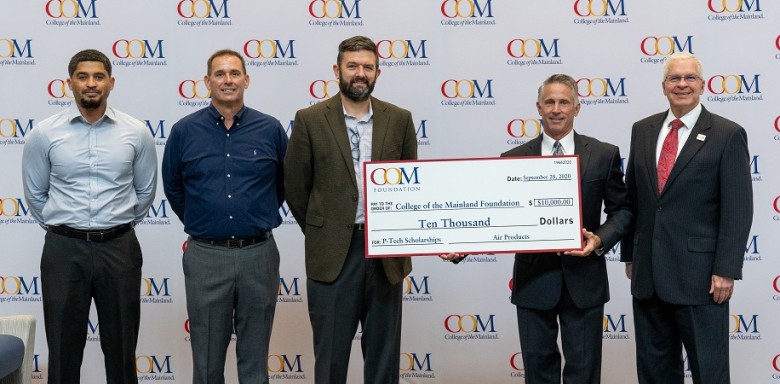 College of the Mainland's Process Technology (PTEC) program has strengthened a growing partnership with Air Products through a $10,000 scholarship donation from the industrial gas and chemical company. The donation, which was formally recognized during COM's September 28 Board of Trustees meeting, will fund four scholarships of $2,500 each for students in the college's PTEC program.
"The Air Products Foundation is pleased to partner with the College of the Mainland and to provide this contribution for scholarships," said Andrew Connolly, Air Products Executive Director for the Gulf Coast Ammonia Project. "Education is one of the core focused areas that Air Products regularly supports. As a company, we believe it is our responsibility to be a good corporate citizen in the communities where we have operations."
Air Products is a world-leading industrial gases and chemical company in operation for 80 years. Focused on serving energy, environment and emerging markets, the company provides essential industrial gases, related equipment and applications expertise to customers in dozens of industries, including refining, chemical, metals, electronics, manufacturing, and food and beverage.
The scholarship solidifies a valuable partnership between Air Products and COM as the company expands its presence into Texas City through its Gulf Coast Ammonia project. Gulf Coast Ammonia, an agricultural and commodity chemical manufacturing company, and Air Products, a world-leading industrial gases company, will develop the anhydrous ammonia facility in the Texas City industrial complex using industry-leading technology, materials and enhanced safety features.
COM's PTEC program, which is the first in the nation to offer an associate degree, offers innovative and dynamic learning opportunities for students through labs and hands-on classes operating industry equipment. The scholarship will support PTEC students to stay on track as they pursue their two-year degree so that they can graduate on time, enter the workforce, and support the economic sustainability of the surrounding community.
For more information about the COM PTEC program, visit www.com.edu/ptec or call (409) 933-8536.