Collegiate High School celebrates 2020 graduates with community car parade
Jun 12, 2020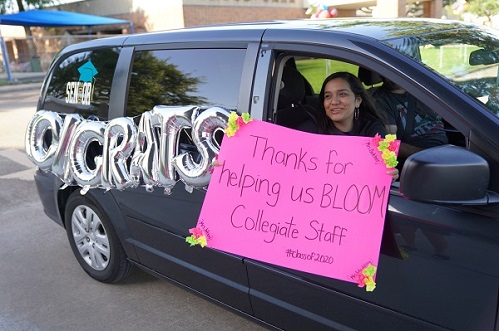 Campuses may be closed, but that did not stop the celebration for College of the Mainland's Class of 2020 Collegiate High School (CHS) graduates. During a socially distant drive-thru car parade held in the college's parking lot on June 10, families remained in their vehicles as CHS staff and spectators gathered to cheer on graduates riding in vehicles adorned with balloons and personalized messages and well-wishes.
Organized by the program's staff, the event marked the culmination of a memorable school year for the 125 CHS students graduating amid the COVID-19 pandemic. The parade served as an alternative to the program's traditional end-of-year Student Recognition Banquet usually held in the spring.
"The COVID-19 has had a huge impact on the CHS program and staff just the same as it did on the entire COM community," said Collegiate High School Director Sandi Belcher. "Students and staff had to learn the Blackboard online format and get use to the idea that they would no longer be face-to-face."
College of the Mainland's CHS program, which is available to Clear Creek, Dickinson, Friendswood, Hitchcock, Odyssey Academy, Santa Fe, Texas City and home- or private-schooled high school students, allows participants to earn an associate degree while simultaneously completing a high school diploma. Of this year's graduates, 89 earned an associate degree and two received two degrees.
Click here to view more photos from the CHS graduation parade celebration.