Faculty and staff tackle online instruction through collaboration and ingenuity
May 11, 2020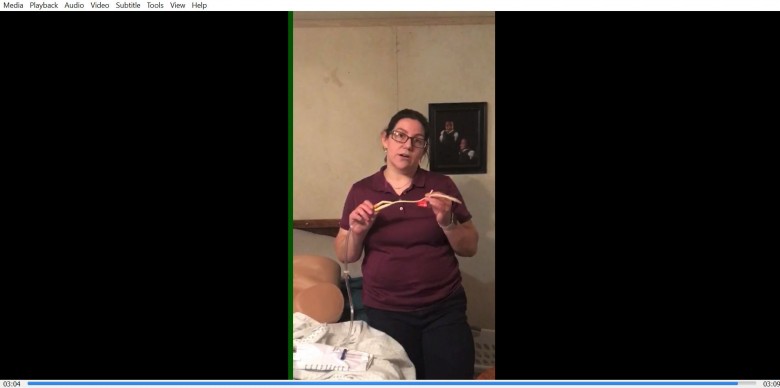 A few short months ago, nursing instructor Nancy Theriault was prepping students for a variety of clinical scenarios in a traditional skills lab setting. But that all changed with the increasing threat of the COVID-19 pandemic. She now finds herself logging onto a computer and presenting her lessons through a virtual classroom.
After College of the Mainland announced that it would be extending spring break for a week in preparation for transitioning student instruction online, faculty quickly jumped into action to make virtual education a reality.
Theriault, who teaches foundational nursing skills, mental health clinical and nursing foundations clinicals, worked with her fellow nursing colleagues to explore various new types of nursing software to determine how it could best support student learning to meet the online format.
"We really worked well and hard in our course teams to figure out the best ways to move forward," Theriault said. "Initially the challenges we faced as nursing faculty was just figuring out how to ensure that students obtain all the necessary information both clinically and content-wise in an online format. Fortunately, there have been great advances in clinical online education for nursing."
Prior to the pandemic, COM offered 128 sections online which was about 17 percent of the college's total number of sections. Currently, all 751 classes are offered online. And while moving such an extensive number of course offerings to an online format was certainly not an easy task, through the collaboration and ingenuity of COM's faculty, instructional leadership, and support staff, the college was able to fully transition to a digital platform within a matter of weeks.
"There are probably as many types of supports as there are departments," said COM Vice President of Instruction Jerry Fliger. "Some departments are holding weekly meetings to keep everyone supported and help resolve any issues. One chair has created a 'Collaborate' area within Blackboard so that they could upload resources and meet with the faculty as a group and individually."
More resources were provided through COM's educational technology office such as classes and individual sessions to assist faculty with the various uses of the multiple technologies. Students were also provided with an online orientation to gain familiarity with the technology and understand how learning differs in an online environment.
Amid the transition, faculty even stepped up to serve as mentors to those who were new to online teaching. These peer mentors provide feedback on courses while others are conducting virtual meetings where they are regularly providing coaching.
One of those mentors is Brian Anderson. Anderson, who teaches creative writing and is the humanities department chair, encourages his faculty to provide ongoing individualized support in ways that are convenient for students.
"To help with the transition, we have strengthened and formalized our mentoring relationships," explained Anderson. "More than anything, I have tried to emphasize with all my faculty that communication remains the most important component of online instruction, no matter what you're doing with your course design and assignments."
For Anderson's team, that means providing an extra layer of flexibility and support for students to meet their online course requirements. Some of those supports include one-on-one conferencing, accepting writing assignments via cell phone and working with students to help with technical challenges. Instructors are also filming themselves and producing short instructional videos to help make the classes more personal and provide those connections that simulate face-to-face interactions.
"Students need to see instructor presence to know that they can communicate with you," Anderson said. "I have asked students to communicate with me about specific challenges so that we can work on possible solutions, and my team has done so as well."
While the Spring 2020 semester has been nothing short of a whirlwind, the instructional team at College of the Mainland has certainly risen to the occasion. Challenged with the uncertainties of shifting to an online instructional platform, COM instructors are delivering with creativity and a resounding commitment to meet the evolving needs of students every step of the way.