COM's Marketing and Public Affairs Team Recognized at Conference
Feb 28, 2019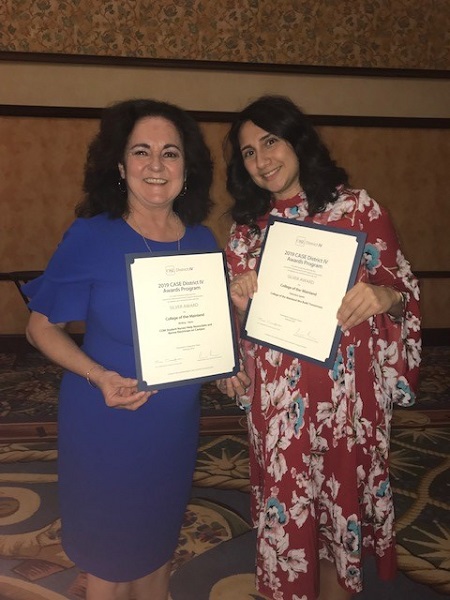 The College of the Mainland Marketing & Public Affairs Department was recognized with two silver awards at the Council for Advancement and Support of Education (CASE) District IV Annual Conference held in Grapevine, Texas.
The conference, held Feb. 24-26 at the Gaylord Resort, brought together advancement and communications professionals in higher education from Arkansas, Louisiana, Oklahoma and Texas. Sessions offered ranged from alumni relations and estate planning to marketing and social media.
During a Red Carpet Reception and Accolades Celebration on Feb. 25, a silver award was presented to COM in the Video-Television Spots category for the We Build Tomorrows commercial that aired last fall. In the category, the gold award went to the University of Texas at Dallas for Intentional Future-Making and the bronze was given to Sam Houston State University for SHSU Baseball/Softball. COM's commercial can be viewed here: https://www.youtube.com/watch?v=UdiELgVwAhs
In the Writing-News category, COM received a silver award for COM Student Nurses Help Resuscitate and Revive Electrician on Campus which captured the events of Sept. 19 when nursing students along with two COM employees helped resuscitate an electrician who was electrocuted. The article, written by Ruth Rendon, can be found at https://www.com.edu/news/article/2018-10-08/com-student-nurses-help-resuscitate-and-revive-electrician-on-campus-
The gold award in the writing category went to Texas Christian University's entry of A TCU Political Scientists Parses Media Bias from Fake News and the bronze was awarded to the University of New Mexico for Fighting for her students and her status: Orozco honored by NMPED as 2018 New Mexico Teacher of the Year.
The two COM entries advanced to the CASE national competition.
Amanda Garza, marketing specialist, and Rendon, communications officer, for COM attended the conference and accepted the awards.