COM Theatre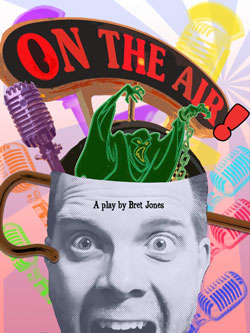 On the Air!
Nov. 3–20, 2022
(on-sale Sep. 27, 2022)
by Brett Jones
A fast and funny farce set in New York City in the 1940s during the height of radio theatre. The workers of WLL are excited when the most popular show of the era, The Shroud, brings its cast and crew to their station to broadcast the famous program. When a dark figure dressed in the Shroud's cloak begins causing havoc, chaos and confusion runs amuck in this hilarious tribute to the golden age of radio!
---
2022-2023 Season
The COM Theatre announces the upcoming 2022-2023 season:
NEW 2022-23 Show Times
Thursday, 7 p.m.
Friday, 7 p.m.
Saturday, 7 p.m.
Sunday, 2:30 p.m.
---
Theatre Box Office
Call the Box Office at 409-933-8345 or 1-888-258-8859, ext. 8345.
Since 1972, COM Community Theatre has presented over 228 productions including children's theatre, concerts and workshops with attendance of more than a quarter of a million people. The theatre has been recognized as one of America's leading community theatres, setting high production standards and developing one of this country's most innovative programs.
Beyond education, the College of the Mainland Theatre bears a three-fold commitment: to provide quality theatrical experiences for residents of the area, to offer a forum for local and regional talent by holding open auditions and to extend the reputation of College of the Mainland.