COM Theatre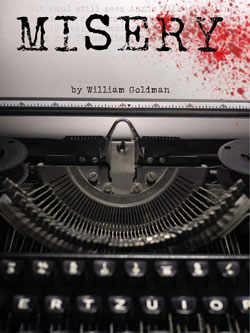 Misery
Sep. 8–25, 2022
(on-sale July 26, 2022)
by William Goldman, based on the novel by Stephen King
Successful romance novelist Paul Sheldon is rescued from a car crash by his "number one fan," Annie Wilkes, and wakes up captive in her secluded home. While Paul is convalescing, Annie reads his latest book and becomes enraged when she discovers the author has killed off her favorite character, Misery Chastain. Paul quickly realizes the irate Annie has no intention of letting him go anywhere as she has him writing a new novel as if his life depends on it, and it does.
Featuring COM Theatre faculty member Ashley Love in the lead role!
---
2022-2023 Season
The COM Theatre announces the upcoming 2022-2023 season:
NEW 2022-23 Show Times
Thursday, 7 p.m.
Friday, 7 p.m.
Saturday, 7 p.m.
Sunday, 2:30 p.m.
---
Theatre Box Office
Call the Box Office at 409-933-8345 or 1-888-258-8859, ext. 8345.
Since 1972, COM Community Theatre has presented over 228 productions including children's theatre, concerts and workshops with attendance of more than a quarter of a million people. The theatre has been recognized as one of America's leading community theatres, setting high production standards and developing one of this country's most innovative programs.
Beyond education, the College of the Mainland Theatre bears a three-fold commitment: to provide quality theatrical experiences for residents of the area, to offer a forum for local and regional talent by holding open auditions and to extend the reputation of College of the Mainland.