Past Symposia
Spring 2016 Gulf Coast Intercollegiate Consortium (GCIC) Academic Symposium
"Time and Place as Context"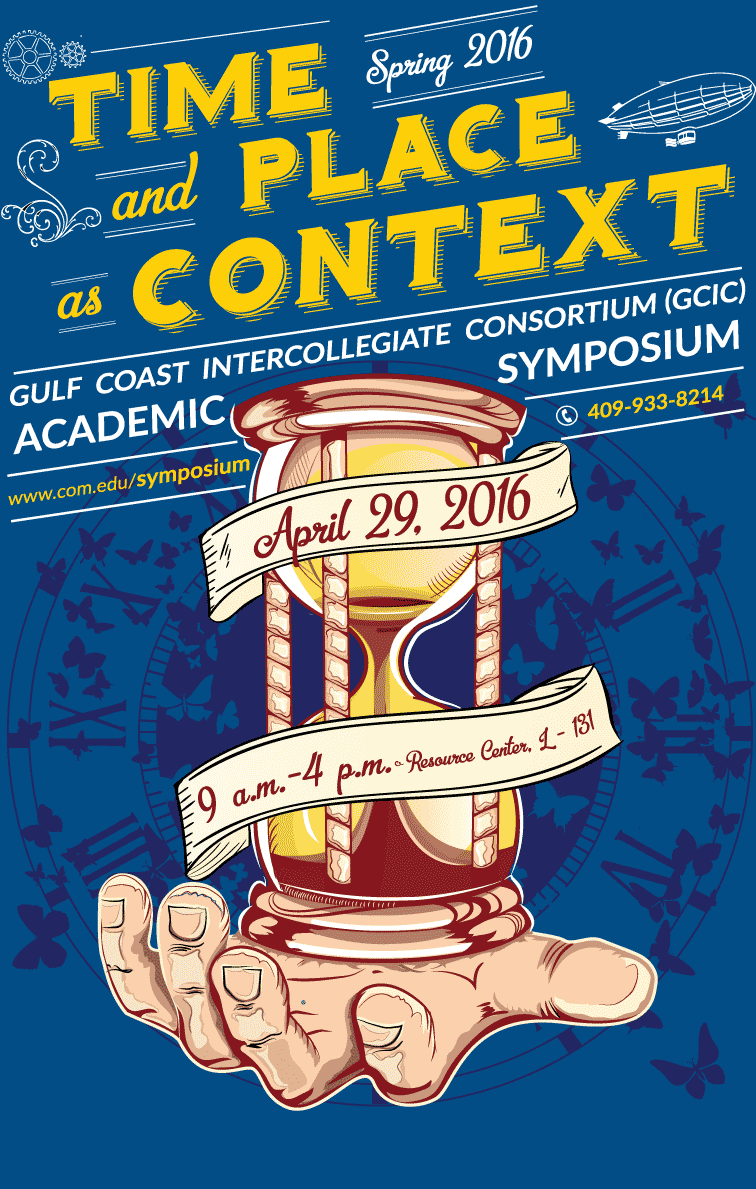 Friday, April 29, 2016 from 9 a.m. to 4 p.m. with opening, lunchtime, and keynote remarks taking place in the Learning Resource Center Auditorium 131
Abstract Submission Deadline:
Saturday, April 2, 2016 at 7 p.m. (Abstracts should be between 200-300 words.)
Spring 2016 Theme
The theme for our Spring 2016 College of the Mainland's Gulf Coast Intercollegiate Consortium (GCIC) Academic Symposium is "Time and Place as Context." The symposium will take place on Friday, April 29, 2016 from 9 a.m. to 4 p.m. with opening, lunchtime and keynote remarks taking place in the Learning Resource Center Auditorium 131.
The theme, "Time and Place as Context," asks us to consider the impact the variables of time and place have on the meaning we derive from observations of events, phenomena, problems, solutions, etc. We ask students to consider the way time and place influence our actions and interpretations in any and all of the disciplines including and not limited to the arts, maths, sciences, social sciences, humanities, and technical fields; we want students to formulate original, inquiry-driven projects that help them evaluate the relationships between time, place, and other variables. Students will then arrive at conclusions that help them make original arguments through traditional or nontraditional research or art projects concerning the theme of "Time and Place as Context."
Though modern life is empirically moving forward in ways we deem evolutionary and innovative, we could argue that time and place have not altered our subjective humanity much or even at all. This is to say that our theme is broad and lends itself to cross-disciplinary examination, which is the driving force of our academic symposium: Our intention is to enable students and their supporters to think more deeply than we're able to do in the classroom while sharing in formal and less formal networking opportunities.
Here are examples of questions that could serve as models for the kinds of projects students may wish to investigate and explore in formal academic research or art; we ask that all work be embedded within scholarly discourse of some kind.
Example questions that could serve as models for inquiry-driven projects are the following: How have time and place influenced female roles, and what can you (students) assert that others have overlooked? Have time and place impacted the way we define love? Does time and place drive the nation's socio-political awareness? Does time and place affect the way we define quality? Do medical practices vary depending on time and place? Is our ecology dependent on time and place? Have beliefs and ideological systems changed according to time and place? Are ethics and morals impacted by contexts including time and place?
We invite you to contact us if you'd like elaboration on what's possible. Please have students submit 200 to 300-word abstracts through our Abstract Submission link by Saturday, April 2, 2016 at 7 p.m. Students should follow the abstract protocols of the discipline in which they're engaging; for specifics, they should seek the input of a professor who may serve as mentor for their project, or again, contact us directly.
2016 Keynote Speaker – Dr. Veronica Sanchez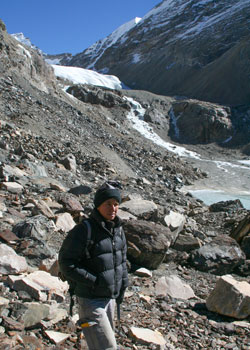 Dr. Veronica Sanchez is a graduate of the University of Houston (BSc, MSc, PhD) where she conducted research on the structure and tectonics of the Tibetan Plateau. She is currently Assistant Professor of structural geology at Texas A&M - Kingsville where she teaches and conducts research on crustal deformation and mountain-building processes.
Previously she held appointments at the University of Houston (2011-2012) where she taught introductory geology courses, and at College of the Mainland (2012-2015), where in addition to teaching, she engaged students in interdisciplinary academic research, outdoor geology experiences, and public outreach to engage the community in geology activities.
Prior to graduate studies, she worked as a seismic interpreter in hydrocarbon exploration in the Gulf of Mexico and Midcontinent regions during various internships and co-op programs. After her Masters she worked for a services company analyzing petrophysical properties of core samples. Her Masters and PhD research on the development of extensional structures in the Tibet-Himalaya region sparked her interest on the behavior of the continental crust in response to surface and subsurface processes, such as those involved in mountain building during continent-continent collisions.
She has recently explored areas in southern Ontario and New Brunswick, Canada; Oaxaca, Mexico; and West and Central Texas. Her work relies heavily on field work, rock sampling and mapping, remote sensing analyses and geochronology to develop models to enhance our understanding of the long-term evolution of the continental crust.
---
2015 GCIC Academic Symposium Winners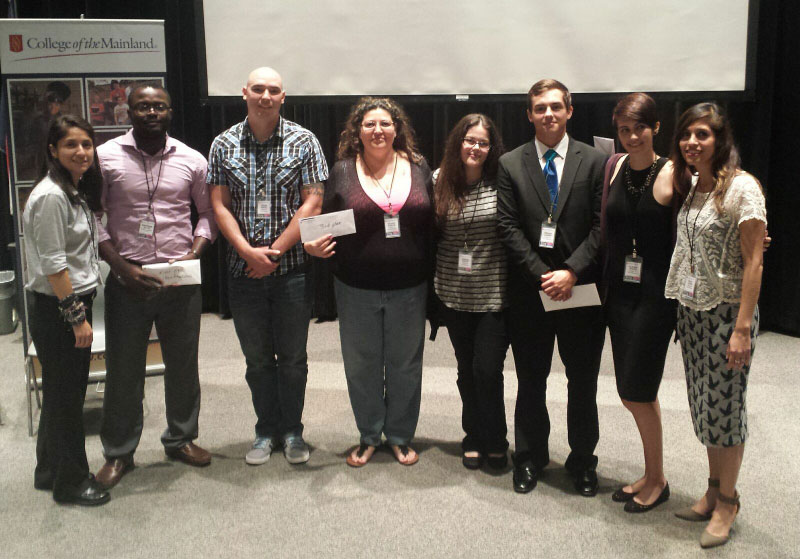 First Place
Bertrand Ebang
Alvin Community College (advisor: Professor Elizabeth McLane)
"Using Ultrasound to Treat Children with Sickle Cell Disease"
Second Place
Alaina Spiers
College of the Mainland (advisor: Professor Stacey Burleson)
"Humanity's Pride and Prejudice"
Third Place
Jason Hayes and Valarie Robson
College of the Mainland, (advisor: Professor Veronica Sanchez)
"Artful Evolution of Alluvial Fans"
Honorable Mention
Drager Landry
College of the Mainland (advisor: Professor Dalel Serda)
"Utilizing Optimism: A Tool Encompassing Motivation and Academic Success"

Jordan Bryan
College of the Mainland (advisor: Professor Mark Greenwalt)
"Preservation through Art and Science"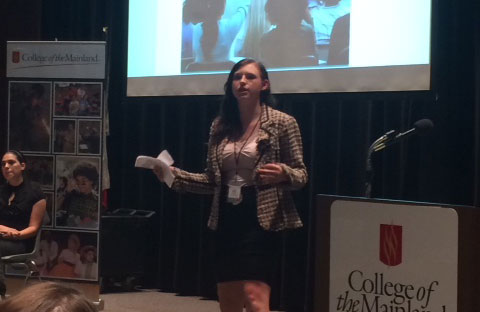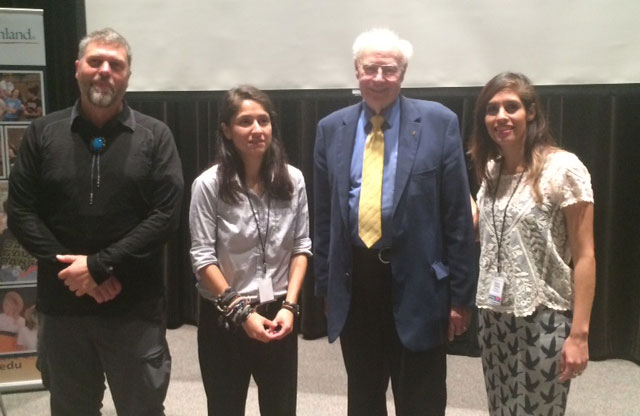 Theme for 2015 Symposium
COM's Third Gulf Coast Intercollegiate Consortium Creative and Academic Symposium 2015's theme: "Being Human: the Art of Science; the Science of Art"
We want students to consider the interconnectedness between the arts and sciences. The relationship between the two is often unacknowledged, but we maintain that if students are persuaded to locate and analyze the inherent art in science and science in art, they'll achieve quality, creativity, and originality, with far greater regularity. We want students to consider all of this while mapping these concepts to what makes us human. It's a high order but one we're sure students will conquer in surprising ways.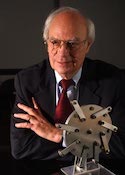 Keynote Speaker
Professor Emeritus of Mechanical Engineering and History at the University of Houston
Dr. John H. Lienhard is an Honorary Member of the American Society of Mechanical Engineers and a member of the National Academy of Engineering. He is the author and voice of The Engines of Our Ingenuity, a program aired by Houston Public Media at the University of Houston.
Please contact us with questions or comments.
Contact Ms. Dalel Serda (409-933-8497, dserda@com.edu).