Pipefitting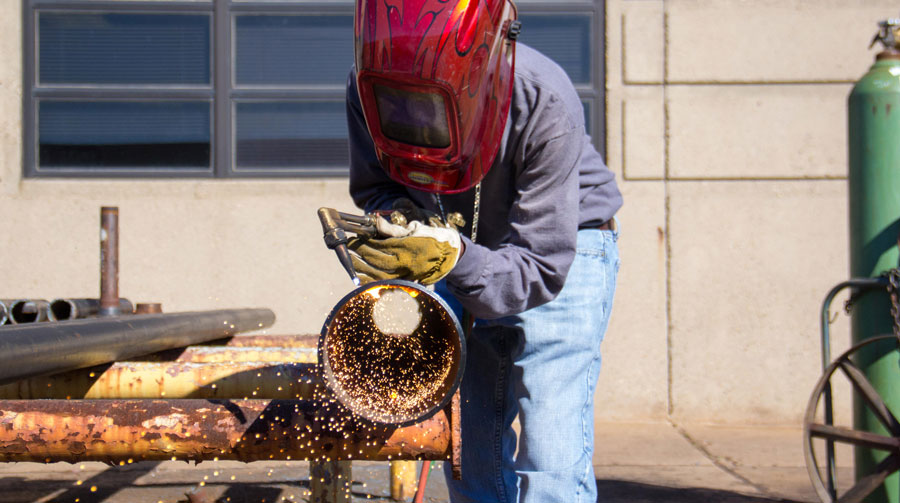 About the Career
A pipefitter installs, repairs and troubleshoots mechanical piping systems. Piping systems may carry fuel, chemicals, water, steam or air. Pipefitter helpers often later become pipefitters.
Career Outlook
Gulf Coast industries are investing billions of dollars in capital improvements throughout the Texas coast area. With our proximity to the Gulf Coast, home to over 200 chemical plants and to the largest petrochemical complex in the world, COM provides training that supports these industry demands.
The average hourly wage is $24.68, with entry-level positions starting below that rate. The Gulf Coast Workforce Development Board projects that by 2022 opportunities for pipefitter will increase 24.4 percent. (Source: Workforce Solutions, 2016).
Completers of the Manual Machinist Program may find entry-level jobs in:
Petrochemical plants and refineries
Power generation plants
Commercial facilities/factories
Marine/offshore facilities
About the COM Program
College of the Mainland's Pipefitting Program prepares students for jobs in a high-skill, high-growth occupation. Instructors with years of experience in the field teach courses combining classroom instruction and hands-on work. Classes meet two nights per week to accommodate work schedules.
The Pipefitting Program will follow the NCCER curriculum that is supported by leading construction and maintenance companies, manufacturers and national associations. Students who successfully complete the first course will be listed in the NCCER registry that employers access for recruiting. Students completing this program will receive Industrial Pipefitting I and II Occupational Skills Awards and will be eligible to test for their NCCER credential.
How to Begin
New students must register in person with COM's Continuing Education Office located in the Technical Vocational Building Suite 1475. Returning students may register in person or online at www.com.edu/register. Textbooks are not included in the tuition.
Minimum Age Requirements: Be 18 years of age or older, or have a high school diploma or GED
Financial Assistance
Texas Public Education Grants (TPEG) – This is a grant based on financial need and is available through COM's Financial Aid Office.
Hazlewood Act – This assistance is available to veterans, their spouses and eligible children and is available through COM's Financial Aid Office.
Workforce Innovation and Opportunity Act – This assistance is based on financial need and is available through Workforce Solutions.
Scholarships
---
Industrial Pipefitting I – Occupational Skills Award
Recommended Course Sequence
Course #
Title
Hours
CNBT-1018

Pipefitting – NCCER CORE

This course is a study of NCCER CORE for pipefitting. Students will demonstrate the safe use of hand tools, power tools and related equipment for pipefitting, basic rigging and material handling; apply knowledge of blueprints, construction math, communication and employable skills; general industry safety and receive OSHA 10 credential. Students will be listed in the NCCER National Registry upon successful completion.

Prerequisite: High School Diploma or GED.

64
PFPB-1008

Pipefitting – NCCER Level 1

This course is a study of NCCER Level 1 for pipefitting. The student will be introduced to the pipefitting trade. Students will demonstrate the use of hand tools and power tools associated with pipefitting; identification of pipe, pipe fittings, flanges, and fasteners; apply mathematical calculations applicable to pipe-fitting installations; identify equipment used in pipefitting such as oxy-fuel cutting, ladders and scaffolds and motorized equipment.

96
PFPB-1043

Pipefitting – NCCER Level 2

This course is a study of NCCER Level 2 for pipefitting. The student will identify and demonstrate the use of different piping systems; socket and butt weld pipe fabrication, treading pipe; install pipe hangers and supports; sketch isometric views of piping assemblies; interprets piping standard and specification; use measuring devices and pipefitting trade math.

Prerequisites: CNBT-1018, PFPB-1008

128
Total Hours
288
Industrial Pipefitting II – Occupational Skills Award
Recommended Course Sequence
Course #
Title
Hrs
PFPB-1050

Pipefitting – NCCER Level 3

This course is a study of NCCER Level 3 for pipefitting. The student will identify and demonstrate the safe use of construction equipment used in the pipefitting trade for installation of different plumbing systems. Focus will be on rigging and motorized equipment and practices.

Prerequisites: Industrial Pipefitting I OSA

128
PFPB-2033

Pipefitting – NCCER Level 4

This course is a study of NCCER Level 4 for pipefitting. The student will identify and apply advance pipe fabrication and alignment for rotating equipment. Identify, describe, apply and maintain steam traps, in-line specialties, hot tap fittings and valves.

Prerequisites: Industrial Pipefitting I OSA, PFPB-1050

128
Total Hours
256