Employee of the Month
February 2018
Coleena Jackson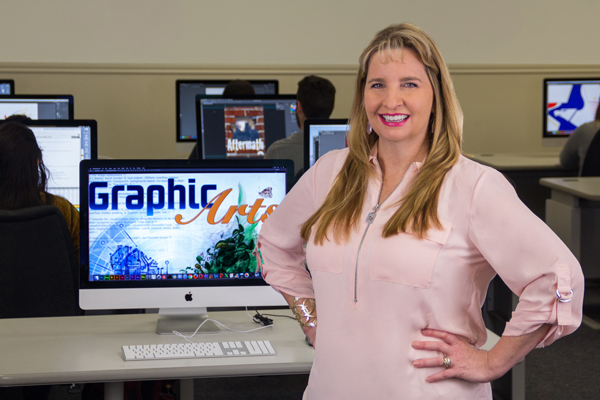 "What I really want to do is help students find jobs."
COM's February employee of the month, Coleena Jackson of the Graphic Arts Program, keeps a clear focus on that priority – and that focus has allowed her to stay current in the rapidly changing field for 24 years teaching at the college.
"This has been my calling to be a teacher," she said.
Graphic artists need to be able to think both as artists and as business people while keeping up with the latest technology.
"We were part of Fine Arts at one time," Jackson explained, but the program's workforce development priority led to its move into the Business and Computer Technologies Department.
"Our students need to be very technically savvy. They need to be competent in their applications of the software and in their own skills," she said. "They very often work with real projects from the community so that as problems arise they can learn to troubleshoot them. Because of that, they also get that business end – that personal interaction, working with budgets, working with clients, meeting their needs.
"There are techniques we use to teach them the elements of design and how to apply that to their pieces."
When Jackson first taught at COM, the graphic arts program still included hands-on learning in how to operate a printing press. Since then, video, desktop publishing and website development have become the dominant tools of the trade.
"It's lifelong learning," she said. "That's why I have to keep up and stay fresh with my skills, and they're going to have to do the same, because if they're going to stay in this field, it is never-ending."
While Jackson first worked commercially in the graphic arts field after her education, ending up at COM was a natural step.
"I feel fortunate that I get to be involved in a teaching position at COM. I grew up in Texas City and Galveston County," she said. "My family's been here for a long time – my dad helped build the Tech-Voc building that I work in."
"I live in this community and I want to make COM the best community college that I can. It's real personal."
---
Know someone who goes above and beyond? Nominate an outstanding employee at www.com.edu/hr.