Employee of the Month
August 2018
Ann Presnall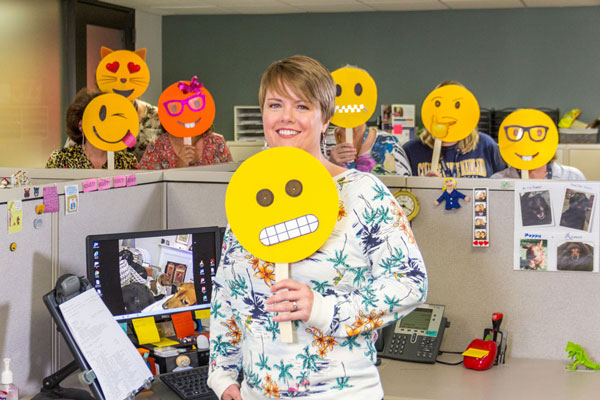 Entering the college world can be an apprehensive time for students but after meeting with Ann Presnall in the Admissions Office they usually end up being relieved and laughing. Presnall's calming effect and friendly personality are some of the traits that made her the August Employee of the Month.
"Ann works diligently to assist our students and staff in Student Services," her nominating application said. "She never says no to assisting anyone. She is consistently going above and beyond her job. She is well known across campus as a friendly, hardworking employee and they know they can count on her when they need something done."
Presnall's demeanor has helped when students are anxious and she helps "calm students down at the counter when things seem to be escalating." She also has taken on additional duties and is dedicated to getting the potential student from an applicant to an enrolled student. Sometimes it would take three to five days to have applications downloaded and entered into a database but Presnall makes sure the process is handled within a day.
The records specialist's career at COM began in 1998 as a part-time student worker in admissions & records. In May 2013, she returned to the campus to work part-time as a cashier in the business office and then accepted a full-time position in the admissions office in December 2013.
Presnall enjoys helping students but considers her co-workers the best part of her job.
"We are a very tight-knit group, and we get along very well at work and outside of work. It would be very miserable to work in a little office for 40 hours a week with people I didn't like or get along with. I am very happy to call them my friends," said Presnall, whose husband, John, is a faculty member in Social and Behavioral Sciences.
Outside of work, Presnall would be considered a homebody. She prefers to relax at home with her husband and dogs while reading a book or watching TV and eating.
Things you may not know about Ann Presnall:
Favorite sports team/player? Why? The Astros. Being from the area, I was raised an Astros fan. I'm still a fan of the Killer B's from the '90's.
Last good movie you watched? I don't remember.
Last good book you read? Hillary Clinton's "What Happened."
Book or Kindle/iPad? Book!!!! Her husband has a library at home filled with at least a thousand books, no lie!
Dogs or cats? I love, love, love dogs. I have three. Their names are Ziggy (10-year-old mix of some kind), Poppy (long-haired dachshund probably 12 years old) and Romeo (dabbled dachshund who is 10 years old). They are senior dogs that I have raised since they were pups. They are the absolute loves of my life.