Human Resources
Employee Recognition Dinner Photos 2017...
view here
Who have you seen going above and beyond their regular duties to ensure students succeed?
Nominate an outstanding staff or faculty member for the Employee of the Month Award. Complete the nomination form and email it to the Empolyee Of the Month Committee at EOM@com.edu or send it through inter-office mail to HR.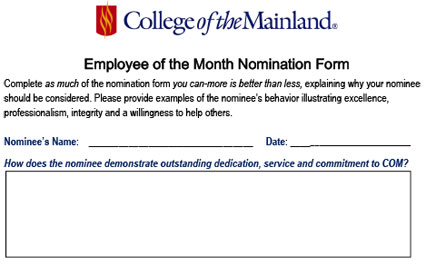 ---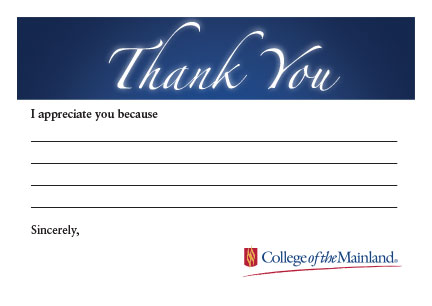 ---
College of the Mainland is an affirmative action/equal opportunity institution and does not discriminate on the basis of race, color, sex, age, national origin, religion, disability or veteran status.
College of the Mainland does not discriminate on the basis of disability in the recruitment and admission of students, the recruitment and employment of faculty and staff, and the operation of its programs and activities, as specified by federal laws and regulations within Section 504 of the Rehabilitation Act of 1973 and the Americans with Disabilities Act of 1990 and 1992.
Compressed Summer Schedule - (Q & A)
---
Michael McGee
Executive Director Human Resources

Contact HR
409-933-8269
STU-223
Email HR