Computer Networking Fundamentals – Dual Credit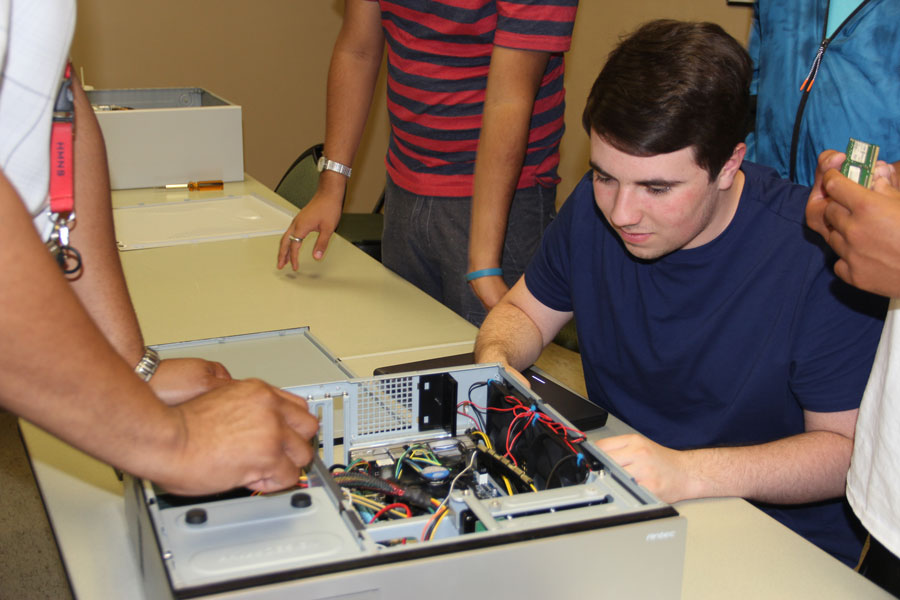 About the Career
Constructing the networks others rely on, network administrators maintain LANs, WANs and intranets. As part of a growing field in information technology, network administrators are in demand in all organizations and businesses.
Median hourly pay: $32.33
Source: Bureau of Labor Statistics
Job Market and Salary
| Network and Computer Systems Administrator | Average Median Salary | Percentage of Growth by 2022 |
| --- | --- | --- |
| Gulf Coast Region | $74,000 | 32.6% |
| Texas | $85,660 | 23.3% |
| National | $72,560 | 12% |
About the Program
Upon completion of the computer networking fundamentals, students will be equipped to pass both COMPTIA A+ exams and be certified in PC operating systems and PC hardware. The COMPTIA A+ certificate is recognized by the IT industry and positions students to find employment in this area. Additionally, students will have the ability to gain two Microsoft certifications as well as completion of prerequisites for many of the courses found in the Networking Certificate.
Contact Information
Please speak with the dual credit advisor or college connection advisor at your high school.
Computer Networking Fundamentals Certificate
ITSC 1305 – Introduction to PC Operating Systems

Introduction to personal computer operating systems including installation, configuration, file management, memory and storage management, control of peripheral devices and use of utilities.

This course leads to the CompTia A+ Part 1.

ITSC 1325 – Personal Computer Hardware

Current personal computer hardware including assembly, upgrading, setup, configuration and troubleshooting. This course leads to the CompTia A+ Part 2.

Prerequisite: ITSC 1305.

ITNW 1308 – Implementing and Supporting Client Operating Systems

This course provides opportunity for skills development in the management of client desktop operating systems. This course leads to the Microsoft Industry certification for Windows Operating System Fundamentals.

ITNW 1354 – Implementing and Supporting Servers

This course provides opportunity for the development of skills necessary to implement, administer, and troubleshoot information systems that incorporate servers in a networked computing environment. This course leads to the Windows Microsoft Industry certification for Server Administration Fundamentals.

ITSC 1316 – Linux Installation and Configuration

Students will receive an introduction to the open source Linux operating system with emphasis on using the GUI console interface. This course includes Linux installation, basic administration, utilities and commands, upgrading, networking, security and application development. Emphasized hands-on setup, administration, and management of Linux. Instruction also covers maintaining and securing reliable Linux systems. The student will install, administer and manage a secure and reliable Linux system; demonstrate proficiency with Linux Utilities, commands and applications; demonstrate effective Linux operation system set up; identify and resolve security-based issues; and identify networking principles necessary to integrate a Linux system into and existing network.

This course leads to the CompTia Linux+ Part 1 Certification Exam.

ITSC 1391 – Special Topics in Computer and Information Sciences, General Linux

This course covers shells, scripting and data management, user interfaces and desktops, administrative tasks, essential system services, networking fundamentals and security. This course leads to the CompTia Linux+ Part 2 Certification Exam.

Prerequisite:ITSC 1316.

ITNW 1325 – Fundamentals of Networking Technologies

This course offers instruction in networking technologies and their implementation. Topics include the OSI and TCP/IP reference models, network protocols, transmission media, and networking hardware and software. The student will learn to identify and use network transmission media; explain the OSI and TCP/IP network reference models; identify and construct networks using the primary network topologies/protocols; identify network characteristics, and determine which would be most appropriate for a proposed network; identify and implement different network operating systems, including centralized, client/server, and peer-to-peer systems; distinguish between Local Area Networks and Wide Area Networks and identify the components used to expand a LAN into a WAN. This course leads to a Cisco Industry certification.

ITNW 2312 – Routers

Router configuration for local area networks and wide area networks. Includes Internet Protocol (IP) addressing techniques and intermediate routing protocols.

Prerequisite or co-requisite: ITNW 1325.

Cisco Certified Network Associate Certification.
Schedule
Semester
Course
Credit Hours
Contact Hours
Days
Times
Tuition
(In/Out District)
Year 1 – Fall
(Two 8-week classes)
ITSC 1305
ITSC 1325
3 / 80
3 / 80
Monday – Friday
Monday – Friday
1:30 – 3:30 p.m.
1:30 – 3:30 p.m.
$200 / $250
Year 1 – Spring
(Two 8-week classes)
ITNW 1308
ITNW 1354
3 / 80
4 / 80
Monday – Friday
Monday – Friday
1:30 – 3:30 p.m.
1:30 – 3:30 p.m.
$200 / $250
Year 2 – Fall
(Two 8-week classes)
ITSC 1316
ITSC 1391 HY
3 / 80
3 / 96
Monday – Friday
Monday – Friday
1:30 – 3:30 p.m.
1:30 – 3:30 p.m.
$225 / $275
Year 2 – Spring
(Two 8-week classes)
ITNW 1325
ITNW 2312 HY
3 / 80
3 / 96
Monday – Friday
Monday – Friday
1:30 – 3:30 p.m.
1:30 – 3:30 p.m.
$225 / $275
Courses ending in HY will be taught hybrid (80 hours face to face and 16 hours online instruction.)
Hybrid courses have an additional $25 fee per course (fee included in tuition cost listed above).
TSI Assessment: Not needed for certificates.
Credential: Marketable Skills Achievement Award completed after first year.
Students successfully completing each of these courses listed above will be equipped to pass the following certification exams:
COMPTIA A+ Certification (requires Part 1 & 2 exams)
Microsoft Window Operating System Fundamentals Certification
Microsoft Windows Server Administration Certification
COMPTIA Linux Certification (requires Part 1 & 2 exams)
Cisco Certified Entry Networking Technician (CCENT)
Cisco Certified Network Associate (CCNA)
COM Next Steps – Stackable Credentials:
Networking Certificate – Level 1
Upon completion of these 5 additional courses: ITNW 1345, ITNW 1353, ITSY 1300, ITNW 2305 & ITNW 1380