Heating, Ventilation and Air-Conditioning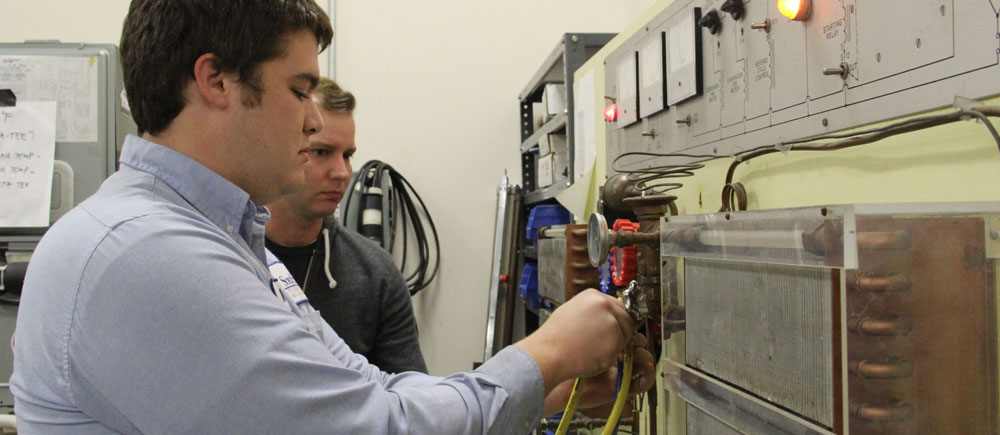 About the Career
A HVAC Technician (also referred as A/C Tech, HVAC Installer, HVAC Mechanic, and HVAC Service Technician) is a tradesperson who troubleshoots, problem solve, and installs heating, ventilation and air-conditioning (HVAC) units in commercial, residential and industrial settings. HVAC Technicians usually begin as a helper.
Career Outlook
The Gulf Cost Workforce Development Board projects that by 2022 opportunities for HVAC technicians and installers will increase 25.7 percent. The average hourly wage is $19.84, with entry-level positions starting below that rate. (Source: Workforce Solutions, 2016). Certificate completers in the Heating, Ventilation and Air-Conditioning program may find employment in the following business sectors:
Residential Homes and Apartments
Commercial Buildings
Hotel and Motels
Hospitals
Restaurants
Manufacturing and Production Facilities
About the COM Program
COM's Heating, Ventilation and Air-Conditioning Program trains students in less than one year to enter a high-skill, high-growth occupation. Students are prepared for a successful career as an HVAC technician/helper installing, troubleshooting and on preventative maintenance using hand and power tools. This course combines classroom instruction and hands-on work that is taught by instructors with years of field experience. Classes meet two nights per week to accommodate work schedules. Students completing this program will receive and Occupational Skills Award, OSHA 10 General Industry Card, and EPA credentials.
How to Begin
New students must register in person with COM's Continuing Education Office located in the Technical Vocational Building Suite 1475. Returning students may register in person or online at www.com.edu/register. Textbooks are not included in the tuition.
Minimum Age Requirements: 18 years of age or older, or High School Diploma or GED.Financial Aid
Financial Assistance
Texas Public Education Grants (TPEG) – this is a grant based on financial need and is available through COM's Financial Aid Office.
Hazelwood Act – this assistance is available to veterans, their spouses and eligible children and is available through COM's Financial Aid Office
Workforce Innovation and Opportunity Act – this assistance is based on financial need and is available through Workforce Solutions.
Scholarships
Heating, Ventilation and Air-Conditioning Occupational Skills Award
Recommended Course Sequence
Course #
Title
Hours
HART 1001

Basic Electricity for HVAC

This course will introduce the principles of electricity as required for the heating, ventilation and air-conditioning trade. Students will demonstrate knowledge of basic principles of electricity, electrical current, circuitry and air-conditioning devices; demonstrate electrical safety and receive OSHA 10 credential.

Prerequisite: A high school diploma or GED

48
HART 1038

Air-Conditioning Level I

This course is a study of HVAC terminology, tools and skills. Students will identify and use HVAC tools; identify and use copper, plastic, and ferrous metal piping techniques; perform brazing and soldering operations; explain electrical and HVAC principles.

Prerequisite: HART-1001

96
HART 1005

Air-Conditioning Level II

This course is a study of practical applications of air-conditioning principles.

Students will measure AC and DC electrical circuits, air properties and distribution; demonstrate maintenance procedures of typical HVAC equipment.

Prerequisites: HART-1001, HART 1038

96
HART 2036

Air-Conditioning Level III

This is an advanced course demonstrating troubleshooting principles. Students learn to use test instruments to conduct performance tests and to diagnose problems in air-conditioning and refrigeration components and systems.

Prerequisites: HART-1001, HART 1038, HART 1005

48
HART 1043

EPA Course and Test

This course is a study of federal regulations that includes intensive training to update students' knowledge and/or skills in preparation for the certification exam, which verifies that students have an understanding of Section 608 of the Federal Clean Air Act of 1990.

Prerequisites: HART-1001, HART 1038 or Approval of Direction of Industrial Workforce Programs.

10
Total Hours
298
News