Certified Nurse Aide Certificate
About the Career
A vital part of the health care field, certified nurse aides provide compassionate basic care for patients. As a certified nurse aide under a nurse's supervision, you will help patients of all ages perform basic daily tasks.
Qualities for Success
Attention to safety, communication and critical thinking skills are essential because patients depend on your care.
Career Outlook
Employment opportunities are found in assisted living facilities, hospices, hospitals and long-term care settings, with a mean hourly wage of approximately $11.80. The demand for certified nurse aides is projected to increase 17 percent by 2024.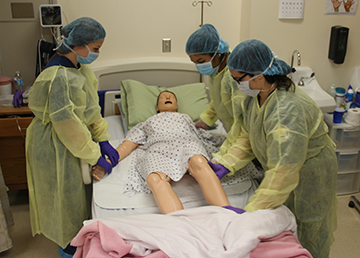 About the Program
Preparing students to flourish in a demanding role, the COM Certified Nurse Aide Program includes a combination of classroom and clinical instruction. All instructors are registered and licensed vocational nurses who teach from their experience.
Students may take evening or fast-track daytime classes.
Certification
Students successfully completing these courses will be prepared to take the state exam, Certified Nurse Aide.
Students will also complete the Healthcare Provider CPR training as part of their course work.
How to Begin
An application is required prior to registration: CNA Student Application. Clinical sites require participants to have updated immunizations, background checks, and verified IDs. The program applicant must pay this cost.
Financial aid is available for students who qualify.
| Course # | Title | Hrs |
| --- | --- | --- |
| NURA 1001 | Nurse Aide for Health Care I (Fast Track) | 90 |
| NURA 1060 | Nurse Aide for Health Care II (Fast Track) | 40 |
| | | |
| NURA 1001 | Nurse Aide for Health Care I | 69 |
| NURA 1060 | Nurse Aide for Health Care II | 40 |